When I was little, I hated taking showers, and honestly, I kind of still do. They're objectively boring, and even at a young age, knew that they were not the most optimal use of time. When you're in the shower, all you can do is stand there and shower! That's it, that's the task! That's why I've always loved baths. I convinced my parents to let me take them instead of a shower and so I'd sit in the tub with my Petite Naté bubbles and read a book or do my homework *while I cleaned my body*. So yeah, I guess you could say I've always been a lil' optimizer. 
Unfortunately, this obsession with having a zero time waste policy is also why I'm always late and have missed more trains, busses, and planes than an adult person should admit. Yes, I am the nightmare friend who thinks it's okay to show up to the airport one hour before boarding because why sit in the airport when you can spend an extra twenty minutes doing something extremely unimportant elsewhere? Most of the time, it's fine! But we are probably never going anywhere again, so honestly, who cares.
Anyway, while I am a horrible and very stressful travel companion, I am the most efficient errand runner you'll ever meet, and I can always have several things ready for dinner in a remarkable amount of time while completing several other tasks. 
For example, the other day, I came home at 6:38 pm, and before I took my sunglasses off or put my keys somewhere I would later forget, turned the oven to 325°. I plucked a chicken out of my bag, removed it from its plastic jacket, and placed it inside a baking dish. I performed my usual chicken ritual (season with salt and lots of crushed pepper, stuffing a half bunch of oregano inside its body, scattering some quartered lemons and thick slices of onion around) and drizzled everything with olive oil. I slid it into the oven and went for a run. 
When I came back, the chicken was about halfway cooked and ready to be basted with a little more olive oil, so I did that. For personal reasons, I decided I needed to continue to sweat, so I ran a very hot bath, which I determined I had enough time for while the chicken finished roasting. 
While the tub was filling, I went back to the kitchen wearing only a towel and tore up some stale bread that wasn't going to survive another day so I could turn them into croutons with the chicken fat. If you're wondering how long it takes to fill up a tub, well, it's about how long it takes to tear up one loaf of very stale bread for croutons. I told my friend Chris that I was taking a bath and that I was putting the corn on the grill, and if he could, rotate it in approximately eight minutes and then eight minutes after that? He said yes, he would! Delegation is also an essential part of optimizing.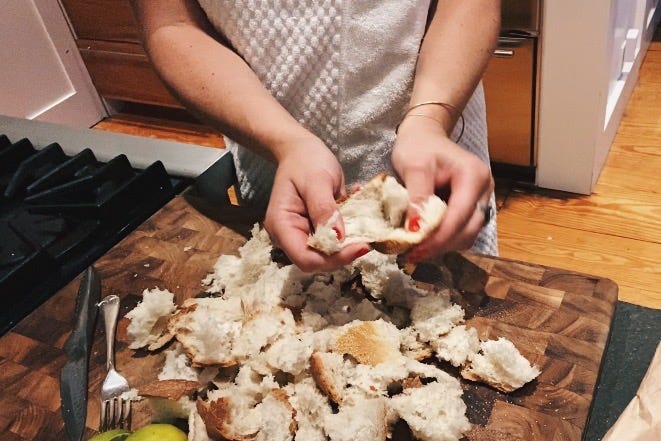 don't forget, bad bread makes great croutons.
I went into the bath for about 24 pages of Fleishman Is In Trouble, which I'm re-reading for the second time. When I emerged sweaty and free of every toxin I'd ingested over the weekend, instead of putting clothes on, I went back into the kitchen in my towel and made a cucumber salad so they could properly marinate before dinner. I find cucumbers either immediately delicious when just freshly sliced and sprinkled with salt, or delicious in 30-60 minutes, once they've had a chance to sit in whatever you're dressing them in. These had white vinegar, raw garlic, herbs, lemon zest and juice, and a quarter of an onion I found in the back of the fridge. I finished them with some leftover toasted garlic oil I forgot I made, an absolutely huge upgrade.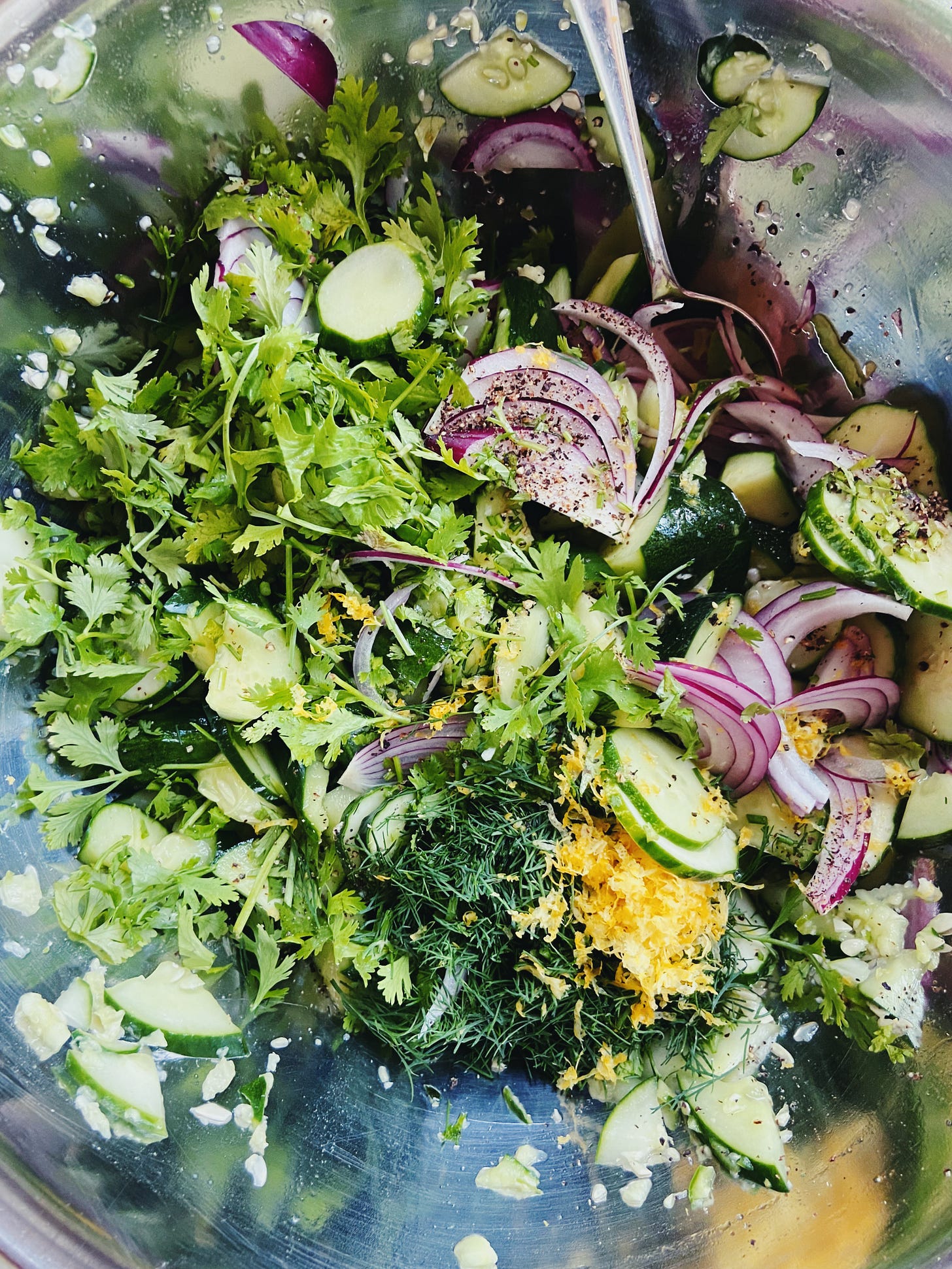 I smashed, sliced AND chopped these cucumbers because what can I say, I like to keep things interesting.
I took the chicken out of the oven and went to put clothes because try as I might, a towel is not a secure item of clothing and you really never know what will happen. I texted my sister, did two mini crosswords, drank some wine, folded my laundry, and came back to a well-rested chicken. I transferred the golden girl to a cutting board, tossed the torn bread in the juices and schmaltzy bits, and popped them back into the oven so they could turn into crispy, schmaltzy croutons.
While the croutons happened, I threw together another salad with some greens and sherry vinegar (I've fallen back in love with sherry vinegar if you must know), chopped herbs to finish the cucumbers which I also reseasoned (I feel like cucumbers always need to be seasoned, like, 9 times), and carved the chicken, which was, to be honest: still too hot! I threw the backbone and a few various bits of the bird into a pot with water, half an onion, and some celery to make a little bit of stock and got that simmering, which I'd strain once dinner was over. God, I was just getting So. Much. Done. I was high on achievement, drunk with accomplishment.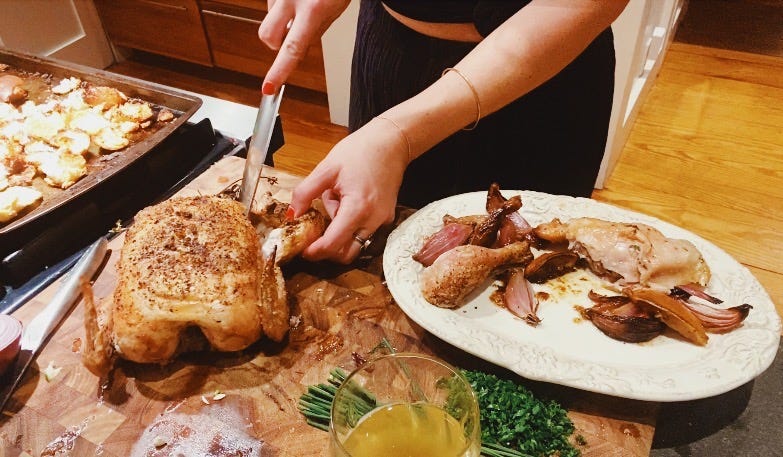 the chicken, it was still too hot.
When the chicken was carved and all the other salady things were finished, the corn came off the grill, the croutons were done, and damn, I had not wasted a single minute. Everything fitting together like a perfectly stacked game of Tetris, extremely soothing to my chaotic Virgo soul.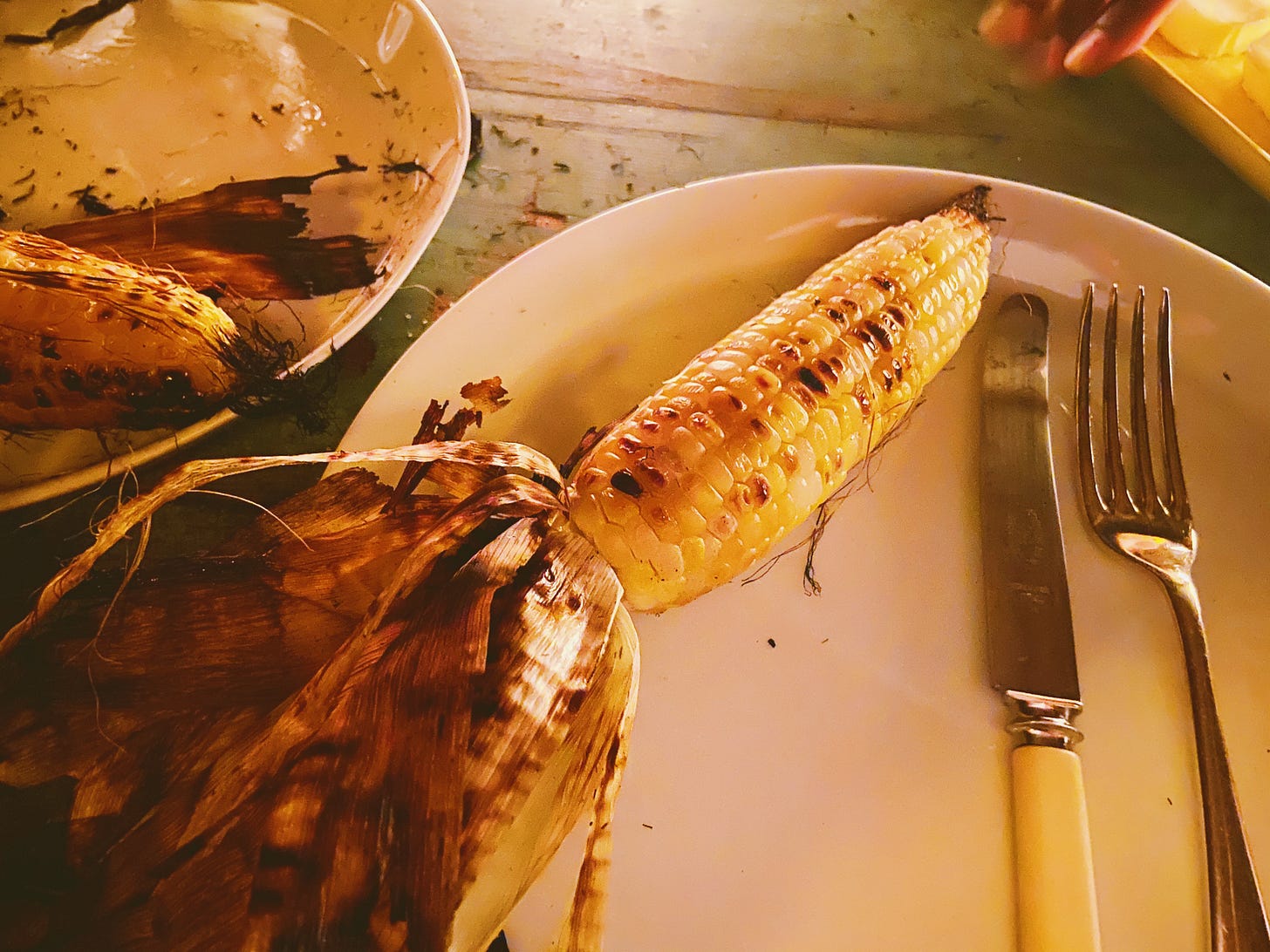 were you hoping for an image of the chicken or the croutons? unfortunately, I did not think to take one! but would you *look* at this corn.
In the spirit of the great
Zuni Cafe
, the chicken and crouton thing can truly be done with any roasted chicken you like- low and slow, hot and fast, buttered or not, whatever. Roast a chicken, make some croutons while the chicken rests, you get it. This recipe for
Anchovy Butter Chicken with Chicken Fat Croutons
from Dining In is a good recipe to get started (anchovy butter optional, I GUESS).
Recipe for Highly Seasoned Cucumber Salad available tomorrow for paid subscribers. Not a paid subscriber? You can sign up or upgrade below.
QUARANTINE ACTIVITIES
Sign up for Kara Brown's newsletter, Read with Kara. Then, read with Kara! To quote: "To recap: I'm starting this book club because stories help you not be an asshole and it's important to know what you're talking about." BUY SOME STAMPS. Use them to write a love letter or just a nice letter or maybe a postcard. Get frustrated with work and have yourself a mid-day bowl of ice cream, eat it with a small spoon for added delight. REGISTER TO VOTE. MAKE A PLAN TO VOTE. VOTE EARLY IF YOU CAN. Sign up to be a poll worker! My friend Eva is doing it, which is inspiring me to do it, so maybe this will inspire you to do it (each state has its own site, but just google "how to be a poll worker in ____"), which will maybe inspire someone you know to do it and well, you get it. It'll be fun, I promise. Follow @newyorknico for ways to help small businesses in New York right now (let me know if there is someone similar in your city doing the same!). Sit in the sun doing nothing for at least eight minutes, call it meditation. Keep a diary of all the things you're cooking during quarantine so when you feel like you haven't accomplished anything, you can look back on it and think, "wow, I actually did so much" and feel proud.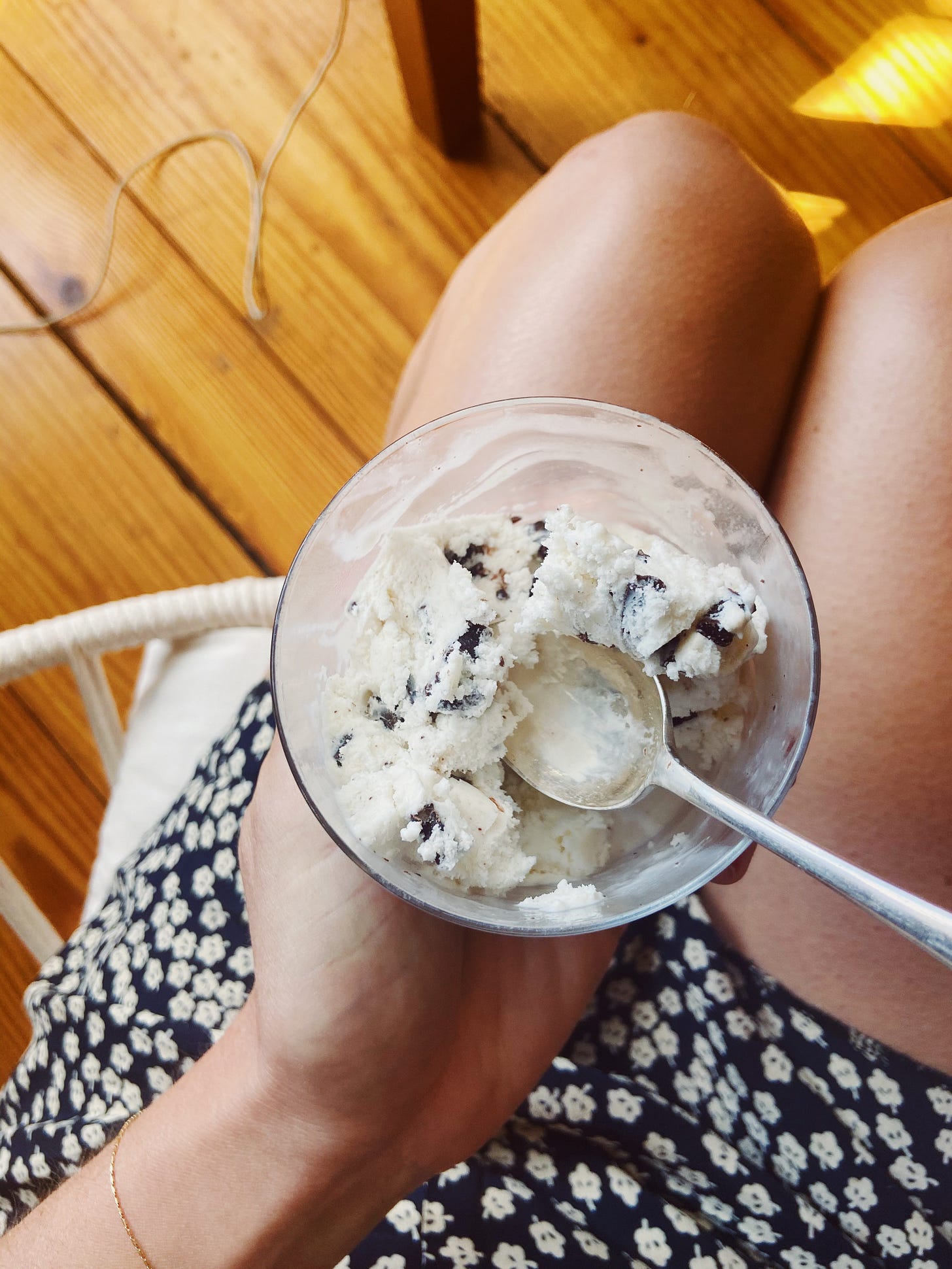 it was breyer's mint and chip and you know what? it was perfect.
---
As a reminder, this newsletter is free with the *option* to subscribe. Paid subscribers get additional recipes, Q+A's, discussion threads, and more to come.
For August, all proceeds will go to 

La Cocina

, an SF-based non-profit that's working to solve problems of equity in business ownership for women, immigrants, and people of color. Learn more about them 

here

, purchase their beautiful cookbook full of amazing stories and recipes 

here

.