Newsletter #17! Seventeen: arguably the worst year of my teens, also an excellent Sharon Van Etten song. If you've found your way here by some miracle but are not yet subscribed, here: let me help you with that!
---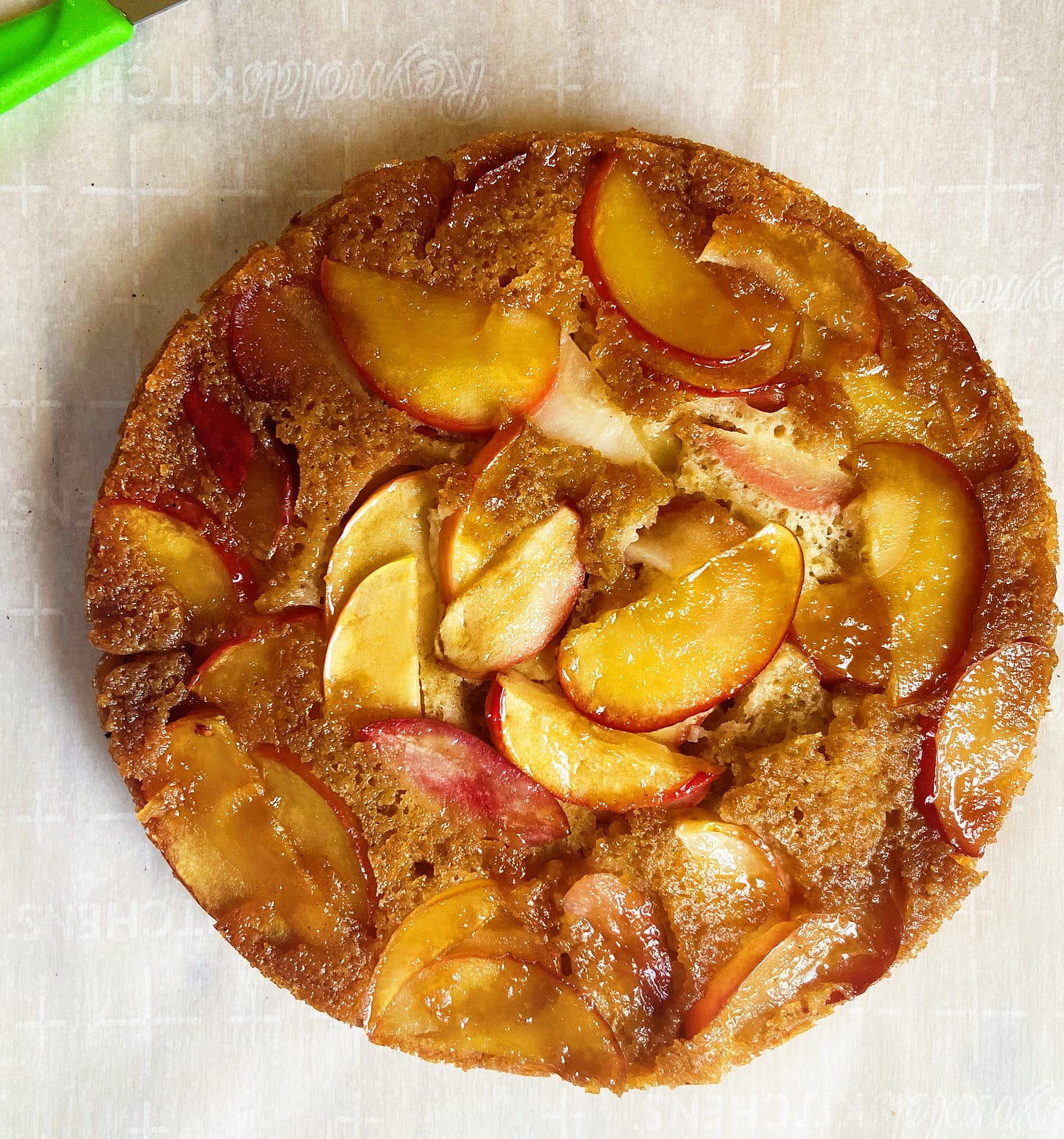 i find this branded, grid-style parchment deeply annoying but it was all they had at the price chopper.
Around this time of year, people love to ask me, "What should I do with all these apples?" Well, my question to them is: Why do you have so many apples? You went apple picking again, didn't you? And when you were at the orchard, you were so taken by the experience of leaving your house and physically touching a real-life, apple-giving tree that you filled every New Yorker tote you could carry to the brim with apples with stems and leaves still attached, because they're cuter that way. And then you got home and maybe made a pie, which used about a third of what you picked and now you're like, well, it's going to take me at least three days to get through all this pie, and I have nine pounds of apples left. NOW WHAT?
Listen, "apple picking is a sham" is not a hot take. It's a pretty tepid take because it's true. I'm guessing anyone reading this already knows this—just look at the pile of apples sitting next to you that you've picked and now have no idea what to do with. I am not here to rob anyone of the joy apple picking may or may not bring (especially if you have young children or are in the early stages of a romance), but I will say that I would pay twice the amount of money to experience just the apple picking and not the apple taking (send me home with an apple pie instead, maybe? Free business idea!).
This reminds me of when I was 16 and my best friends and I took our first road trip ever, from L.A. to Palm Springs to "stay with my grandparents," (really just an excuse to "not be with our parents," who were generally more suspicious of any potentially unsavory behavior we were hoping to indulge in -we indulged!). Stay with me here. On this trip, we listened to a lot of At The Drive-In, smoked so much weed in the community center hot tub that I told my friends I was "peaking on weed" (uh, you cannot "peak" on weed), and went to a rave in the middle of the desert after getting invited by two dudes we met outside a movie theater (don't worry, I'm several million years old now and would never do anything that fun.)  
Right before my friends and I met our rave hosts, we popped into the Bath & Body Works next to the movie theater, excited to blow whatever money we had earned at our part-time jobs (I worked at Jamba Juice, my humble beginning!) on scented lotions and body washes. They were having a sale (they were always having a sale), and you could get five lotions for $20. I wouldn't spend $20 on one lotion, but five lotions? I mean, of course. "Wow, only $20 for five lotions!" I said. "What are you going to do with five lotions?" my friend Kate asked. "It doesn't matter, look how many I can get for $20!" "Just because they're $20 doesn't mean you need five lotions."
This was my earliest memory of how capitalism gives you brain worms and convinces you you're doing something good, like, saving money, when all you're doing is ending up with a bunch of cucumber melon lotion you absolutely don't need. Ugh, sorry to turn such a wholesome activity like apple picking into a lesson about the evils of capitalism, but damn, we simply don't need that many apples!
But, you have them, and applesauce is fine but who owns a food mill (I don't), you can't eat another pie because you still have the first pie, apples as snacks are generally unsatisfying, and galettes are so 2019 (JK, still love galettes.) This sticky apple cake recipe I'm about to give you is a good way to use up a few of those apples for a few reasons: 
You can bake it in whatever vessel you want. Cake pan, springform, baking dish, pie plate, whatever. 

You don't need a food mill or a mixer. In fact, you don't need any specific tools. 

You can make it in about 10 minutes. 

It's not applesauce.

It's a cake that tastes almost like a yellow boxed cake.

It's sticky, and that's a good adjective for sweet things.

You likely have all the ingredients already (except for the vanilla bean. In all honesty, I just found a vanilla bean in my pantry and decided that of course, it would be good here. I was right, but it's not something you need for this cake; vanilla extract will work, too. I like this one). 

Sure, this cake only uses two apples, but it's so easy to make that you could make TWO cakes and give one to a friend or lover or a friend you are hoping becomes a lover. I can tell you from experience, the batter does well in the fridge overnight as well, so if you want to double the batter and make one today and one tomorrow, well, I would never stop you.
Any kind of content promising another "apple recipe for fall" kind of feels like low-hanging fruit (pun intended), and this makes me feel like I'm doing a sort of "shut up and play the hits" thing, but I wouldn't publish this recipe if I didn't truly believe it should make its way into your annual rotation. It's like a sticky toffee pudding meets vanilla birthday cake meets apple pie meets a pancake with apples on top. It's a soft cake without much texture (you bake it until the apples fall apart and become jammy), which is usually something I'm against but here, I'm actively seeking that custardy, soaked cake energy. 
Crushed apple picking dreams and very good cake recipe aside, the election is in two weeks! Holy shit. I hope you've got a voting plan or have already voted. Anyway, here's Wonderwall. 
---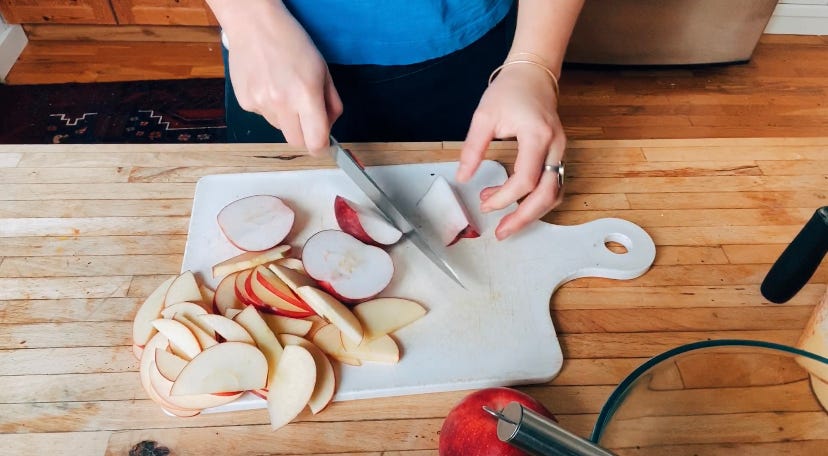 i cut the apple into three "lobes" and snack on the remainder- it's how i've always cut apples, old habits die hard etc.
Sticky Apple Cake
Serves 6 to 8 
½ cup unsalted butter (1 stick) 
½ vanilla bean, split lengthwise, seeds scraped (or 1 teaspoon of vanilla extract)
Non-stick spray (optional)
⅔ cup light brown sugar, divided 
2 large, unpeeled apples, cored and sliced (not too thin- you want some texture here)
1 ¼ cup all-purpose flour 
½ teaspoon baking powder
½ teaspoon baking soda
½ teaspoon ground cinnamon 
½ teaspoon kosher salt
2 large eggs 
¾ cup buttermilk 
1. Preheat oven to 350°. Melt the butter in a small pot over medium-high heat. Cook, stirring or whisking occasionally until the butter starts to brown and foam, 2 to 3 minutes. It should smell like toasted nuts and be the color of caramel; add the vanilla bean if you're using it and remove the pot from heat to cool  
2. Spray an 8"–9" cake pan (springform or regular), pie plate, 1.5qt baking dish, etc. with non-stick spray (you can use softened butter to grease, too). If you are less confident in your upside-down cake flipping skills, line the cake pan with parchment (leaving some hanging out of the pan for easy lifting after).
3. Scatter half the brown sugar (⅓ cup) on the bottom of the cake pan and top with sliced apples; set aside. 
4. Whisk flour, baking powder, baking soda, cinnamon, salt, and remaining ⅓ cup brown sugar together in a medium bowl.
5. Whisk eggs and buttermilk together in a small bowl (or, just add the eggs to the measuring cup you've measured the buttermilk in and whisk in there). Add to the dry ingredients, mixing just to blend. (Don't overmix here, or the cake will become tight and tough.) 
6. Remove the vanilla bean if it's in the butter; if it's not, add the vanilla extract to the butter. Whisk in the vanilla-y browned butter until the batter is smooth and streak-free. (Again, don't overmix it, just until everything is well blended.).
7. Pour batter over the apples, smooth the top (although the batter is pretty viscous, almost like pancake batter and should smooth itself), and bake until cake is golden brown on top, pulls away from the sides of the pan, and springs back lightly when pressed in the center, 25–30 minutes. 
8. Almost immediately (but without rushing or panicking), place a plate on top of the cake pan. With a towel under the pan, flip it over (this isn't as scary as you think it might be, I swear) and remove. Alternatively, if you've got parchment under it, lift the cake up and out of the pan and uh, flip it onto a plate. I can't honestly tell which method might feel more complicated to you but wanted to give two options to decide for yourself.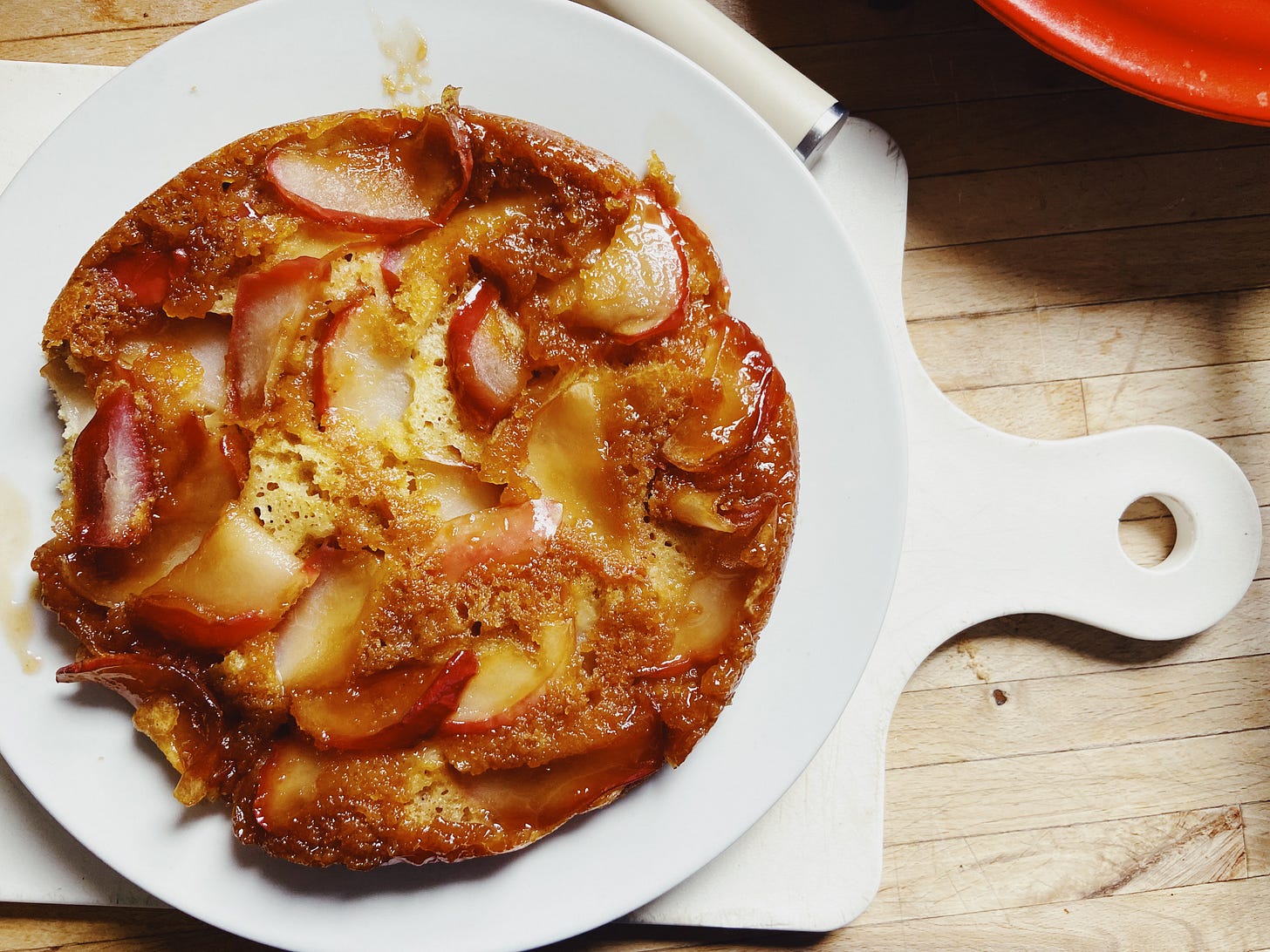 lost a little on the left there (i ate it).
---
QUARANTINE ACTIVITIES
Order the LYLAS zine and wish you were friends with Chris Bernabeo (I am!). All proceeds from issue 4 go to groups fighting voter suppression in battleground states. Along with a lot of other things this year, finally decide that this is year you let go of the idea that you have to like squash. You just don't, and that's okay! Make a plan to bring a snack to the polls. Celery sticks in baggies. Sandwiches with the crusts cut off. Perhaps "a wrap" (I have never eaten a wrap, but sounds portable!). It's like a restaurant, except it's outside and you brought your own food and you're waiting in line to vote. Check out Chefs for the Polls to get involved with bringing food to others while they eat at the coolest new restaurant in town (the line to vote). Listen to this song on repeat and feel JOY for the first time in months. Think about Thanksgiving, decide maybe you don't even need to do a turkey? Decide, actually no— you LOVE turkey and nobody will convince you otherwise! Feel grateful that in your seven years of food editorial, you don't have to think about Thanksgiving, decide you'll need at least two types of stuffing this year regardless. Celebrate the one year anniversary of NOTHING FANCY, feel emotional all day, look at photos from your shoots (the most special of days with the most special of people), cry a few times, get excited to start making books again.
Tomorrow via another newsletter (for all subscribers!), I'll be sending out a few links where you can sign up for some "IRL" (Zoom) cooking classes, hangouts, AMAs, etc. There will be two different sessions, one more cooking focused, and one more publishing/writing/etc focused. Come to one! Come to both! Your money is an important INGREDIENT in the RECIPE that will hopefully save our democracy, what could be more DELICIOUS? Sorry. Bye!
---
For the month of October, proceeds from paid subscriptions will go to the 

ACLU

, who are working to fight voter suppression and ensure fair and equal ballot access in every state for every election. Learn more 

here

.