Newsletter #18! THIS NEWSLETTER IS FINALLY OLD ENOUGH TO VOTE! You're voting, right? Maybe you've already voted? I love that for you. If you've found your way here by some miracle but are not yet subscribed, here: let me help you with that!
---
Hello! Have you dined with us before? We do things a little differently here. The chef recommends two-to-three small plates per person. I am taking some time to go canvass in PA this week/weekend, so this week's newsletter recipe is brought to you by Susan Kim, the brains and beauty behind Doshi, the Korean pop-up stealing hearts and minds since 2020. This Saturday 10/31 and Sunday 11/1, Susan will be making a guest appearance at Kitty's, Hudson's newly beloved cafe/market. If you're in the area, please get yourself there for Lauren's Spinning Chicken paired with Susan's fantastic sides, broth and other snacks.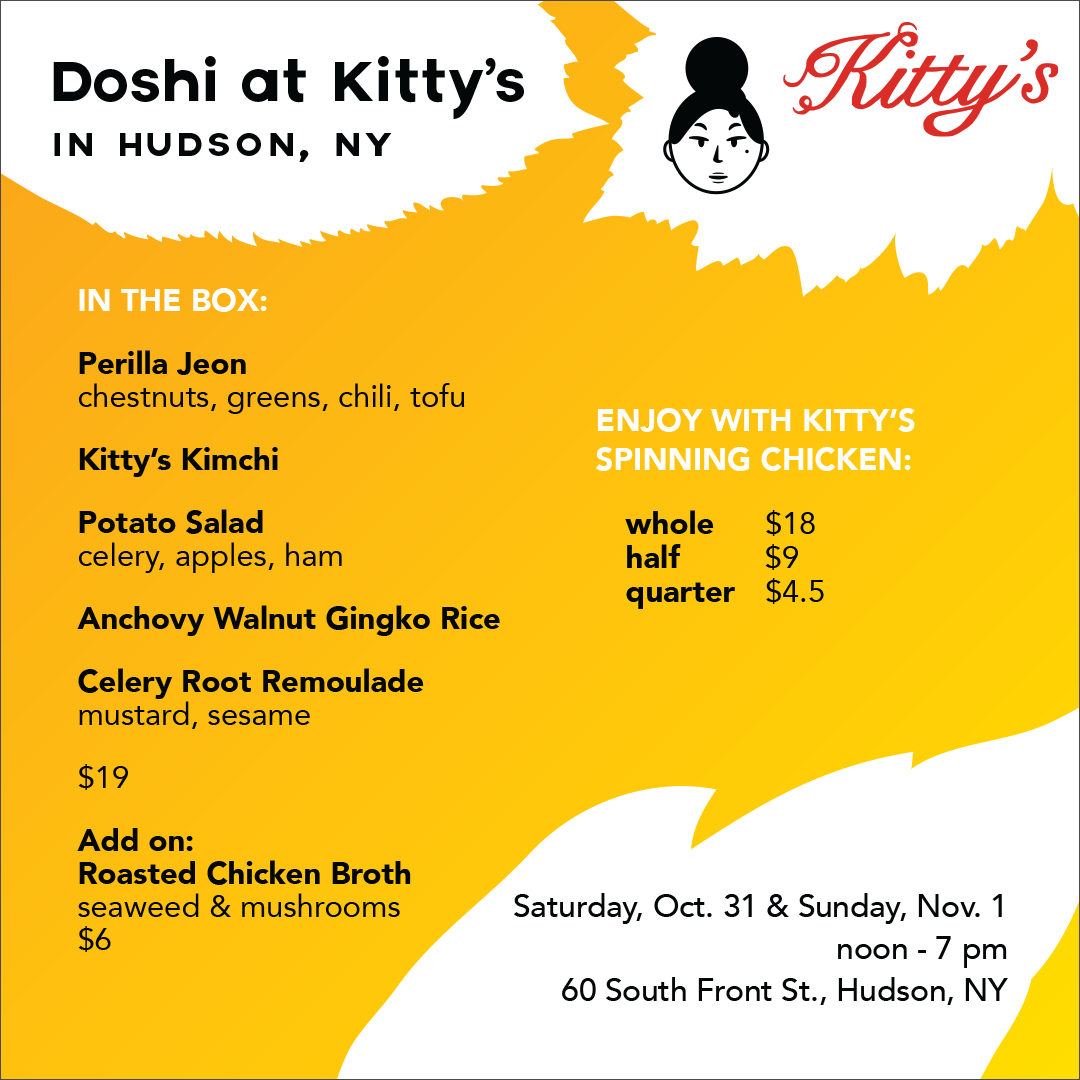 [What's Kitty's? I'm so glad you asked. Kitty's is run by Lauren Schaefer (food!) and Anna Morris (front of house!), two of my close friends, and arguably two of the most talented and hard working people I know. They serve incredible SPINNING CHICKEN (which is essentially seasoned chicken on a rotisserie, but damn, doesn't "spinning chicken" sound fun as hell?), a rotating roster of incredibly delicious sides like chicken fat potatoes, sticky rice with garlic and ginger and crispy and tangy salads. They have an already iconic breakfast sandwich made with the floofiest egg you've ever had, with the optional but highly recommended sauerkraut and crispy bacon on a sesame Martin's potato roll. Their extremely crispy hashbrowns and I are in a long term, long-distance relationship and I'm hoping to take things to the next level this winter ("cuffing season", etc.). Anyway, it's a great spot and they carry wonderful items in their market, including *~local produce~*, Sparrowbush bread, several types of mustard, and my favorite smoked fish in the region. More in-depth Kitty's love to come in the future.]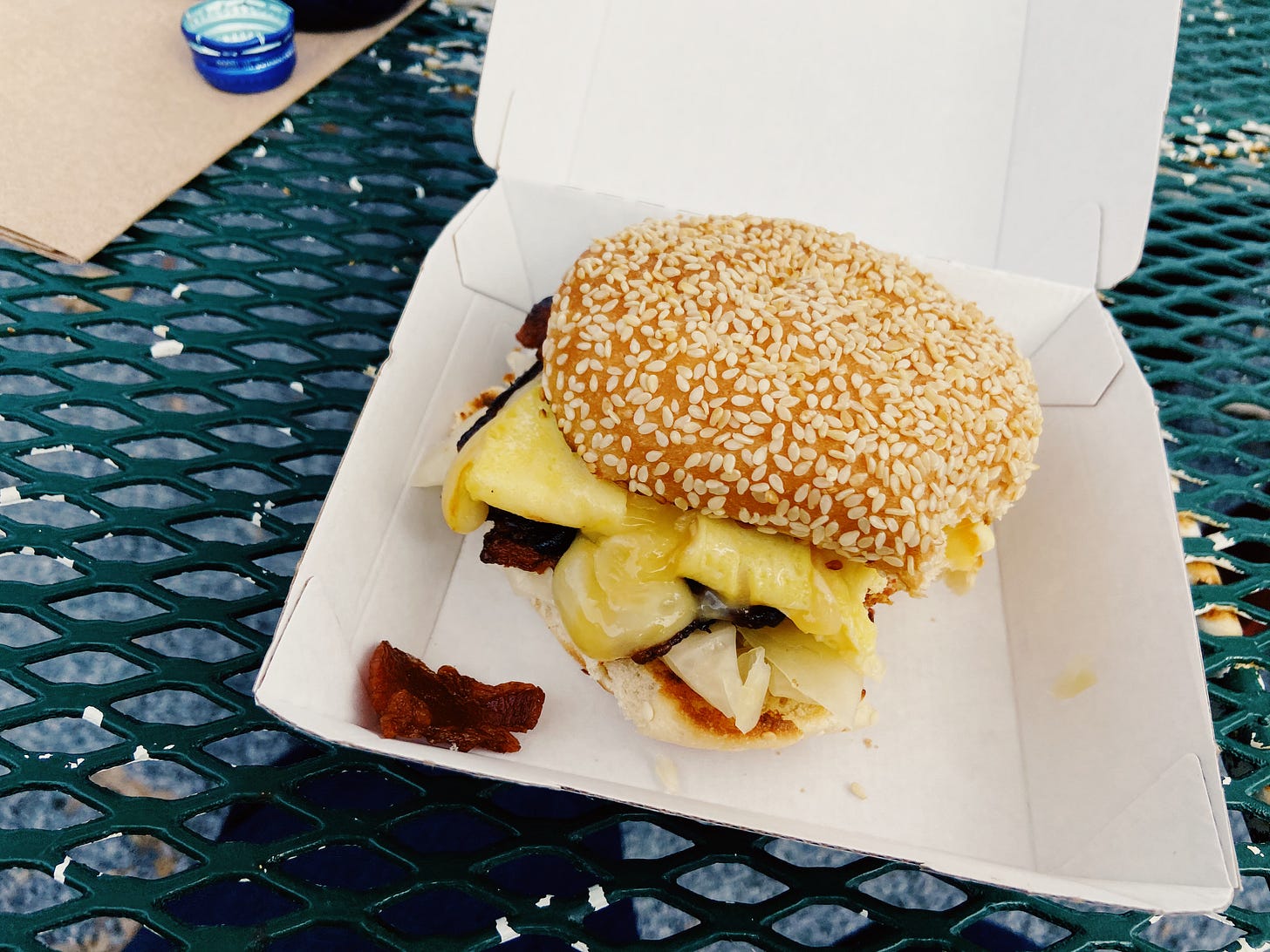 kitty's bacon egg and cheese, an icon in training.
Anyway, SUSAN. Susan and I met years ago cooking for a private event in a strange New York loft-office-event space-dining room-lounge. It was a friendship that pre-dated our first meeting, having already been formed by the trust in the people who introduced us. She's an incredible cook with flawless fashion sense, and one of the key people on set while we were shooting Nothing Fancy who helped make the food look so good. Doshi is her first solo venture, which she started earlier this year (because only a true visionary could start a business in the middle of a pandemic), where she makes exciting, joyful food inspired by Korean home cooking. A few weeks back, I asked Susan if she wanted to share a recipe for something that spoke to her, that would tell the world who she is, what Doshi is. Because she is a perfect human, she chose to share her Anchovy Candy with us. THIS IS WHY WE ARE FRIENDS.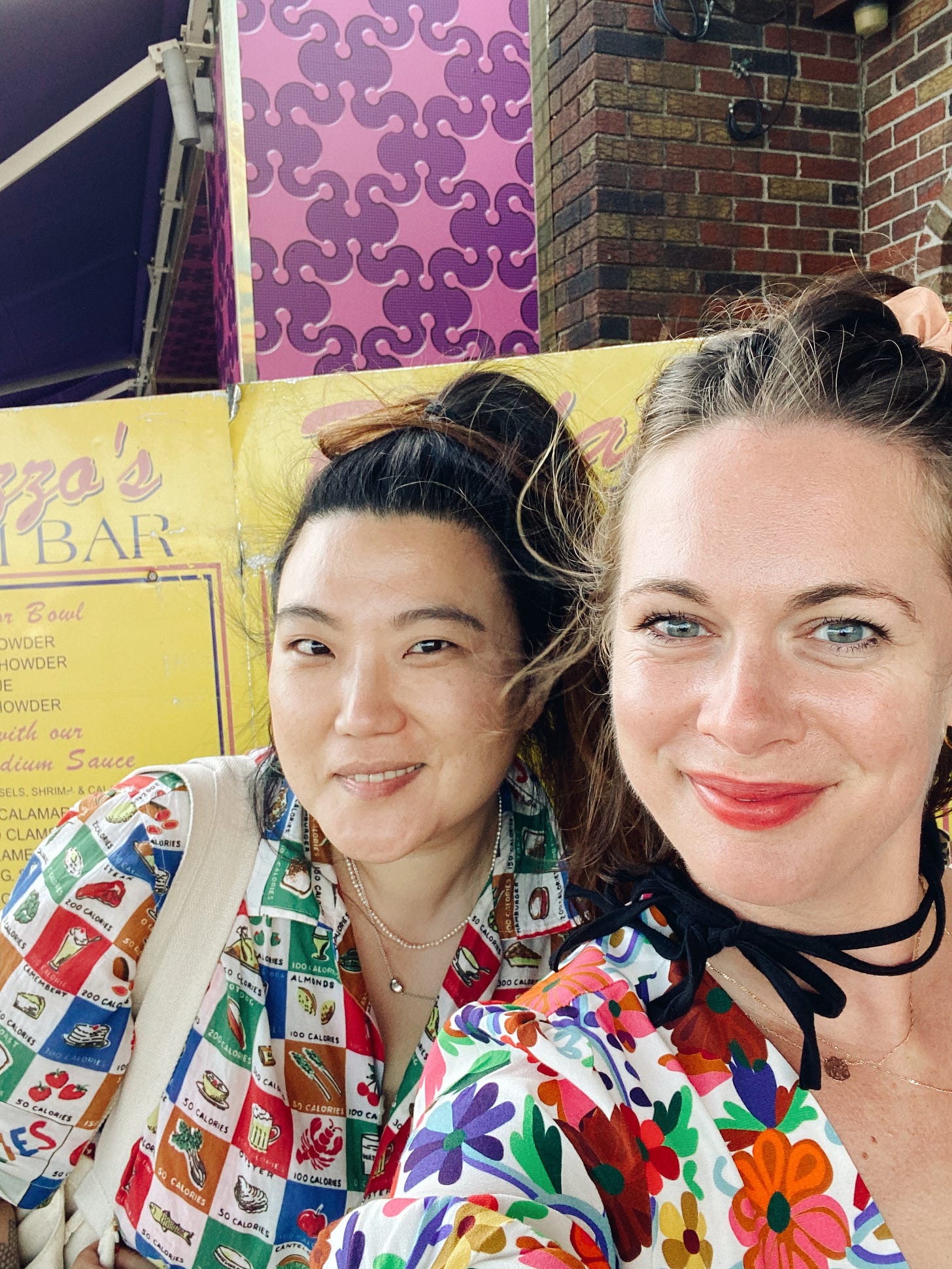 shameless pic of suze and I being friends and looking cute as hell in nearly matching outfits in front of Randazzo's.
I first had this ANCHOVY CANDY at her pop-up over the summer, rolled into bits of sticky rice. Salty, sweet, savory, lightly crunchy little balls of wonder made with bb anchovies, sesame seeds, crushed walnuts, maple syrup, and few other salty, savory friends like soy sauce, fish sauce and gochugaru (Korean chili pepper). It should be noted, that the anchovy here is a whole, small, dried anchovy- not the larger fillets that are salted and preserved in oil or salt. The texture is dried out but still chewy (not crispy) and flavor is decidedly more assertive than the tinned variety, so you don't really use them the same way. According to Susan, they're good for general snacking (they keep in the freezer for "forever"), or for making other banchan-style snacks (with gochugang, with garlic, with sesame, etc).
For more on these tiny miracles, you can read queen Maangchi or more here. As to where to find them, Susan gets them shipped from her mom in Korea, but assuming that isn't happening for you (unless…you know Susan's mom?), you can find them (and the gochugaru) online at H Mart, an extremely well-stocked small-ish chain of Korean grocery stores that can be found all over the country (coast to coast!).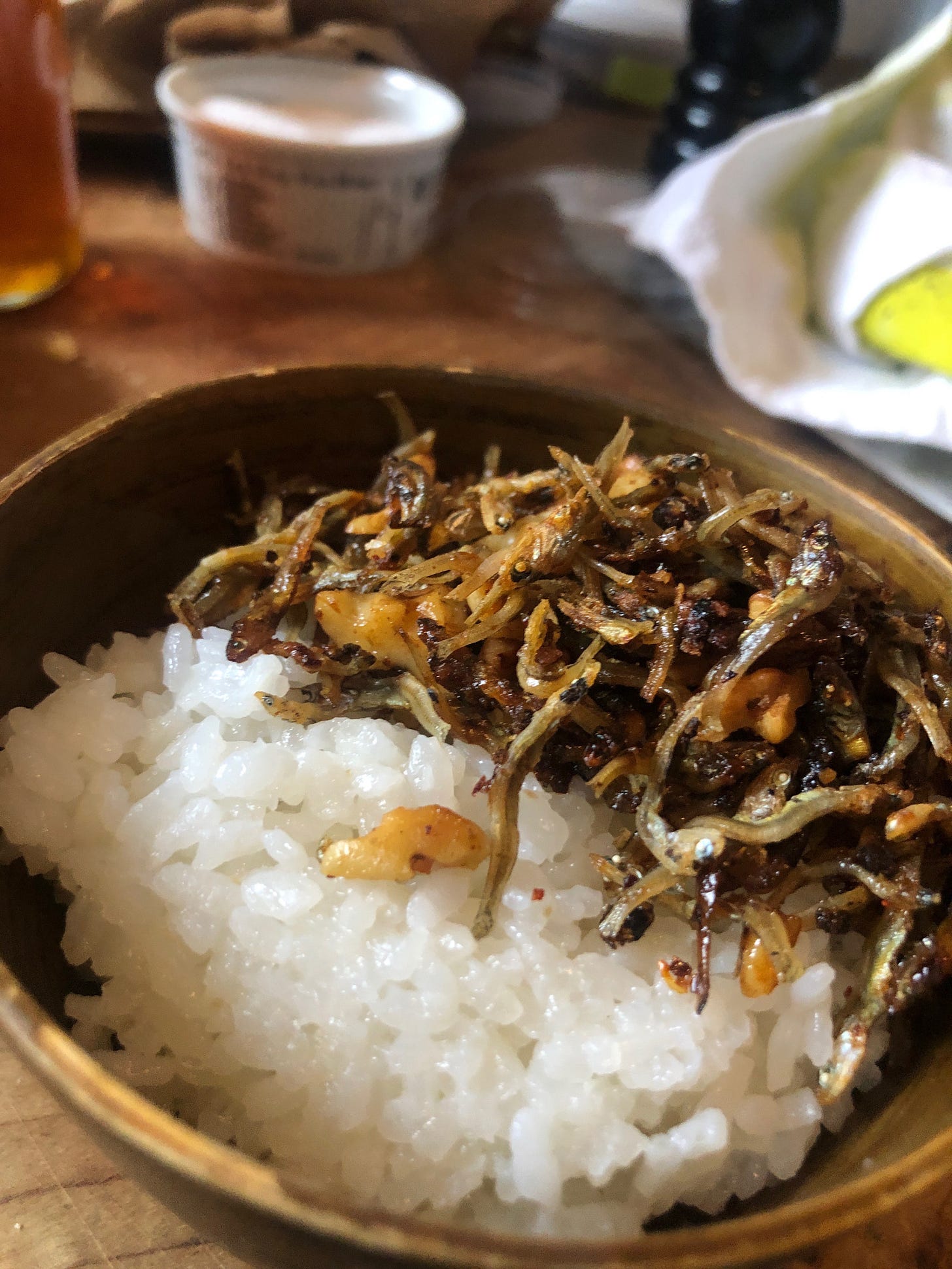 look at all these sweet and salty friends to eat! photo by @susanhjkim
ANCHOVY CANDY
recipe by Susan Kim
makes about 2 cups
2 tablespoons soy sauce
1 tablespoon maple syrup
1 teaspoon fish sauce
2 tablespoons olive oil
1 cup raw walnuts, almonds or peanuts, coarsely chopped
8 ounces (about 1 cup) baby dried anchovies
2 tablespoons raw sesame seeds
1 teaspoon gochugaru
1. Combine soy sauce, maple syrup, and fish sauce in a small bowl; set aside.
2. Heat olive oil in a skillet over medium high heat. Toast the walnuts in the oil until they're fragrant and looking like a nice golden brown, about a minute or two. Lower the heat to medium-low, and add anchovies and sesame seeds. Stir everything together, and cook over this low-ish heat until the anchovies soak up any residual oil (the goal here is for everything to be kind of dry and toasty), about 2 minutes. Remove from heat.
3. Pour the soy sauce mixture into the skillet, stirring to coat the anchovy mixture. In a perfect world, we're looking for the liquid to be evaporated using only the residual heat, but if need be, turn the heat on back to low and cook (stirring constantly so nothing burns) until all the liquid is gone, about a minute. Remove from heat if it was there, then stir in gochugaru.
4. Spoon it over rice, duh. Is there anything better than that freshly made rice? Sometimes I like pouring hot barley or green tea over rice first. Anyway, put this anchovy candy over eggs, an avocado, savory oatmeal. Be your own captain.
It'll keep in the fridge, wrapped or sealed tightly, for 2 weeks (but probably longer, tbh).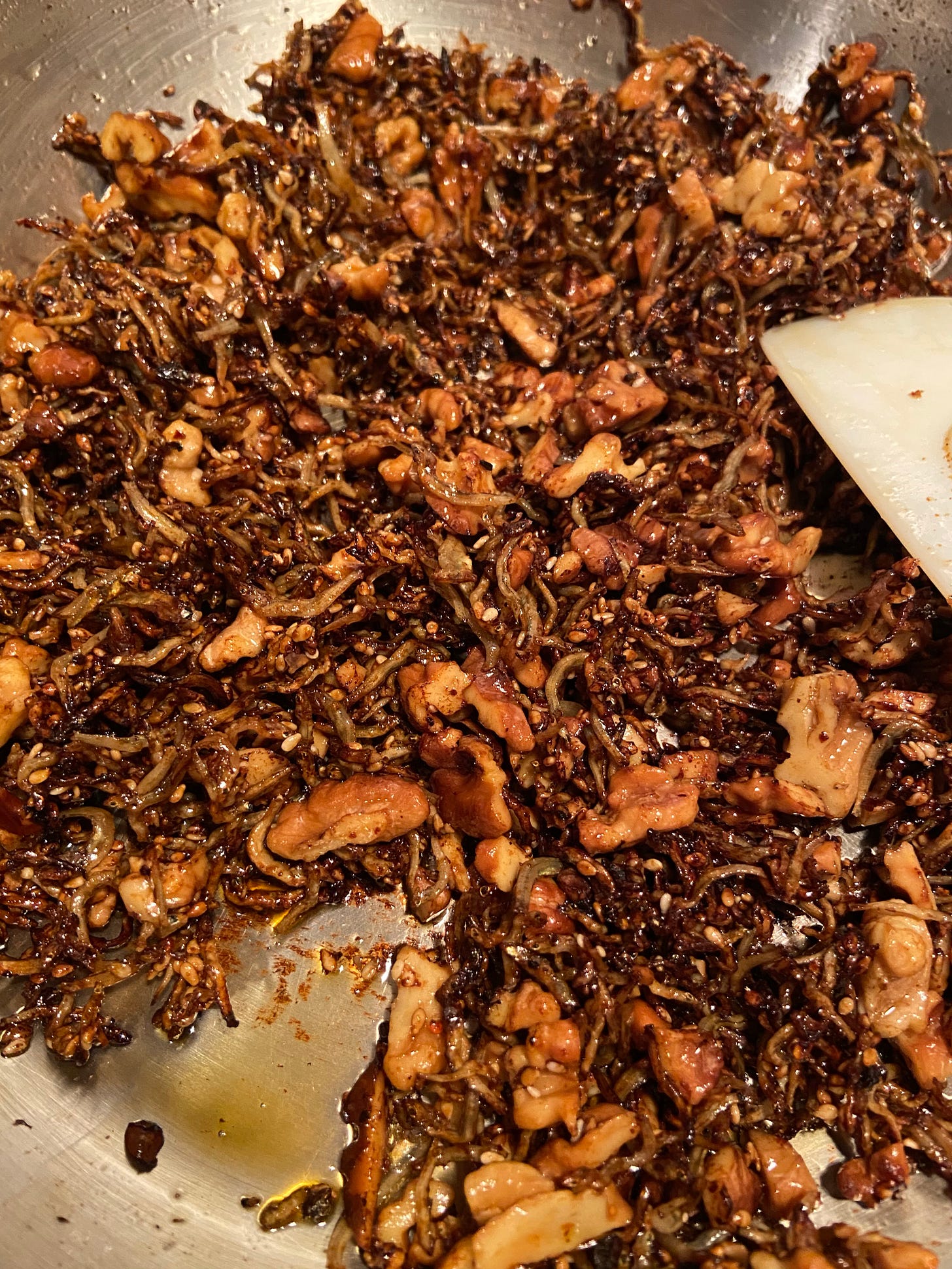 up close and personal with the anchovy candy. photo by @susanhjkim
ALERT! Please do not be sad when there is no newsletter next week, as I will not be writing one. Might I recommend you make yourself
a large pot of meatballs
, or twenty
sticky apple cakes
, just to pass the time.
QUARANTINE ACTIVITIES
Skip Halloween! It's a full moon Halloween, and that freaks me out. Stay home! Watch Single White Female instead and admire how both women are able to pull off this haircut. Stay off the internet as much as possible, scream "disconnect me, daddy!" into the void whenever you feel the urge to refresh Twitter dot com. Stock up on ambiance bc it's ambiance season, baby. Yeah I'm talking PILLAR CANDLES, palo SANTO, tea lights, long matches for which to light said pillar candles. Someone once called me a "normie Madewell ho" so it brings me great pleasure to prove them correct and admit I love Le Labo Santal 33 and Catskill by Brooklyn Candle Studio. LOL at this and think "yes, I DO live in the greatest city in the world." Marvel at all the excellent cookbooks out this fall, like Xian Famous Foods by Jason Wang (my favorite restaurant in New York and I need to know their secrets, although very happy not knowing since I have access to those noods), Dessert Person by Claire Saffitz (the only dessert person I trust) and In Bibi's Kitchen by Hawa Hassan (a visually stunning and wildly delicious sounding collection of stories and recipes you'll want to read and cook). Read this, on my lord and savior, Joni Mitchell and listen to her finest work, which of course appears on the Practical Magic soundtrack, another fall classique with a flawless soundtrack that ALSO features my real mom, Stevie Nicks. See you in two weeks when hopefully the whole world will be different, at least marginally!
---
For the month of October, proceeds from paid subscriptions will go to the

ACLU

, who are working to fight voter suppression and ensure fair and equal ballot access in every state for every election. Learn more

here

.