Bonjour and Shana Tovah. I skipped last week's newsletter, which might happen from time to time. To put it lightly, I've been feeling whatever the opposite of "inspired" is, and so last week I went dark. Usually, I'm able to fake it and say something like "WELL, AT LEAST THERE ARE MEATBALLS [insert meatball recipe here]" but even that is a legit challenge for me at the moment.
THAT SAID, I'm going to t
ake a page from AOC
, and look for productive ways to fight my despair:
DONATE to the

Louisville Bail Project

, which assists protesters continuing to demand justice for Breonna Taylor.

SUPPORT CANDIDATES in high-stakes Senate races this November.

The Immediate Impact Fund

allocates donations to campaigns with the best chance of winning.

Lastly, make sure you're

REGISTERED TO VOTE

and make sure your friends are, too.
Anyway! Instead of cooking, I found myself eating at restaurants for the first time since...March. So: WELCOME TO MY DINING BLOG.
I visited spots I missed most in their newest iterations (outdoors, masked and from a distance), which only made me miss them more. Drove out to Brighton Beach to eat baked clams at Randazzo's and buy sour cream and frozen pelmeni at Brighton Bazaar. Walked over the bridge to Manhattan several times and had noodles with iced tea at Kopitiam, cacio e pepe and pork cooked in milk at Via Carota, and a quesadilla with potatoes that I would like to spend the rest of my life with at Wildair for their special Mexican Independence Day menu.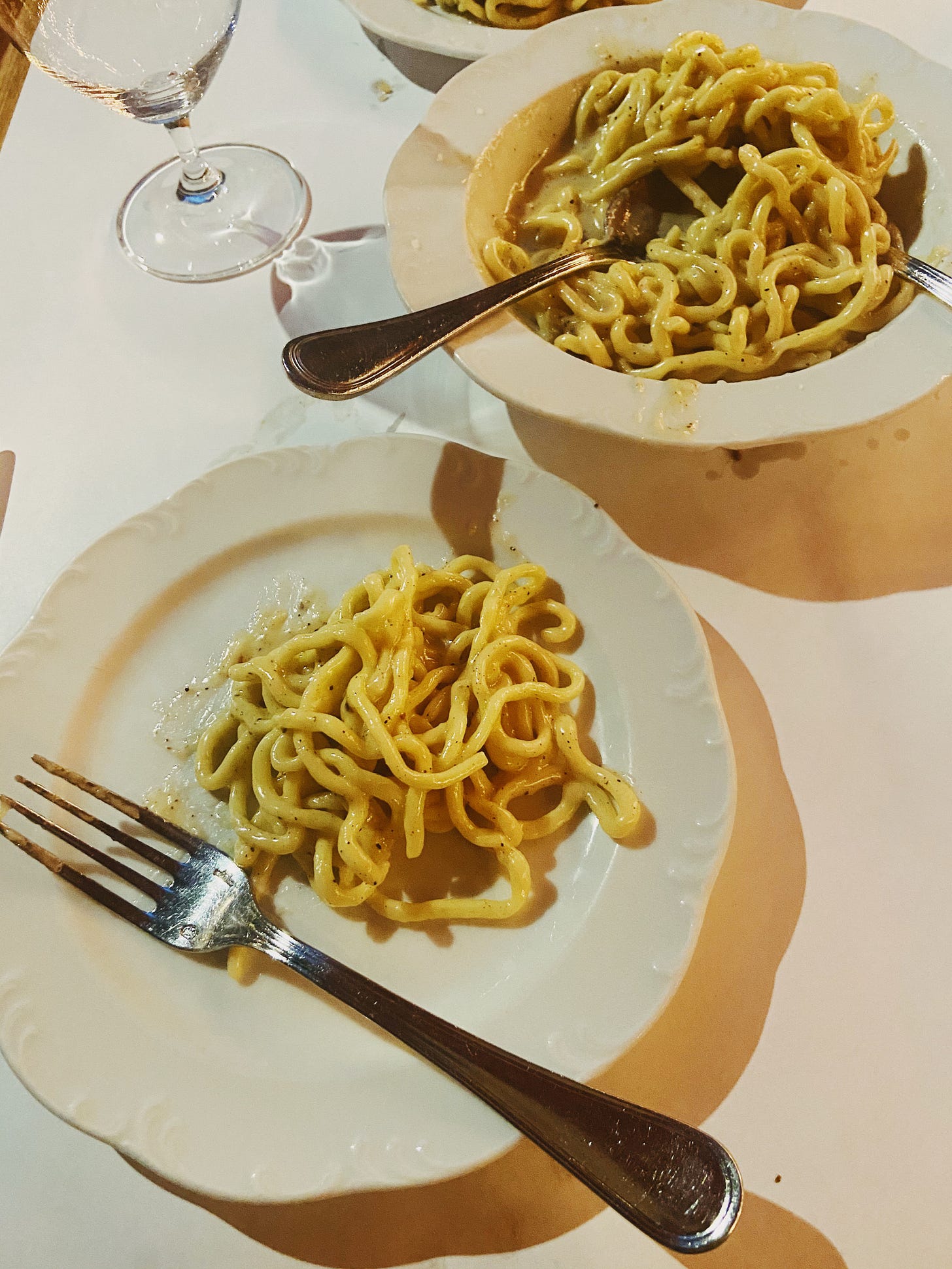 cacio e pepe by streetlight, my new favorite ambient light.
A friend and I walked over to Red Hook to talk about how uncool trying to date in a pandemic is and eat seafood at Brooklyn Crab, low key my favorite restaurant. Is it the best crab I have ever had? Absolutely not. Are the sides worth the trip alone? Lol no. Does the ambiance make up for both of that? Truly no, the ambiance is...maybe actively bad. Is it an outdoor restaurant with fantastically spaced tables with friendly staff and almost no wait because it's in Red Hook that also sells frozen cocktails and pretty good blue crabs and also highly seasoned peel and eat shrimp? You bet that it is, and honestly, WE HAD A BLAST. Brooklyn Crab, I love you, you are perfect, please never change. 
I took a lunch break from doing nothing and biked over to Hunky Dory to see my friend Susan Kim at her pop-up, Doshi (short for doshirak, Korean for "packed meal" or "lunch box"), which is her take on Korean home cooking. I sat alone and ate salty, crispy, delicately fried vegetables and teeny candied-anchovy rice balls and drank extremely cold seaweed broth and felt grateful for Susan and her food, which I wish I could eat daily. Going to see your talented friend at their pop-up is like going to see "your friend's band," if your friend's band was like, Fleetwood Mac (sorry I am old and that's the only band I know). That specific pop-up was a one-day-only affair, but I know she's doing more, so check back here for the next one.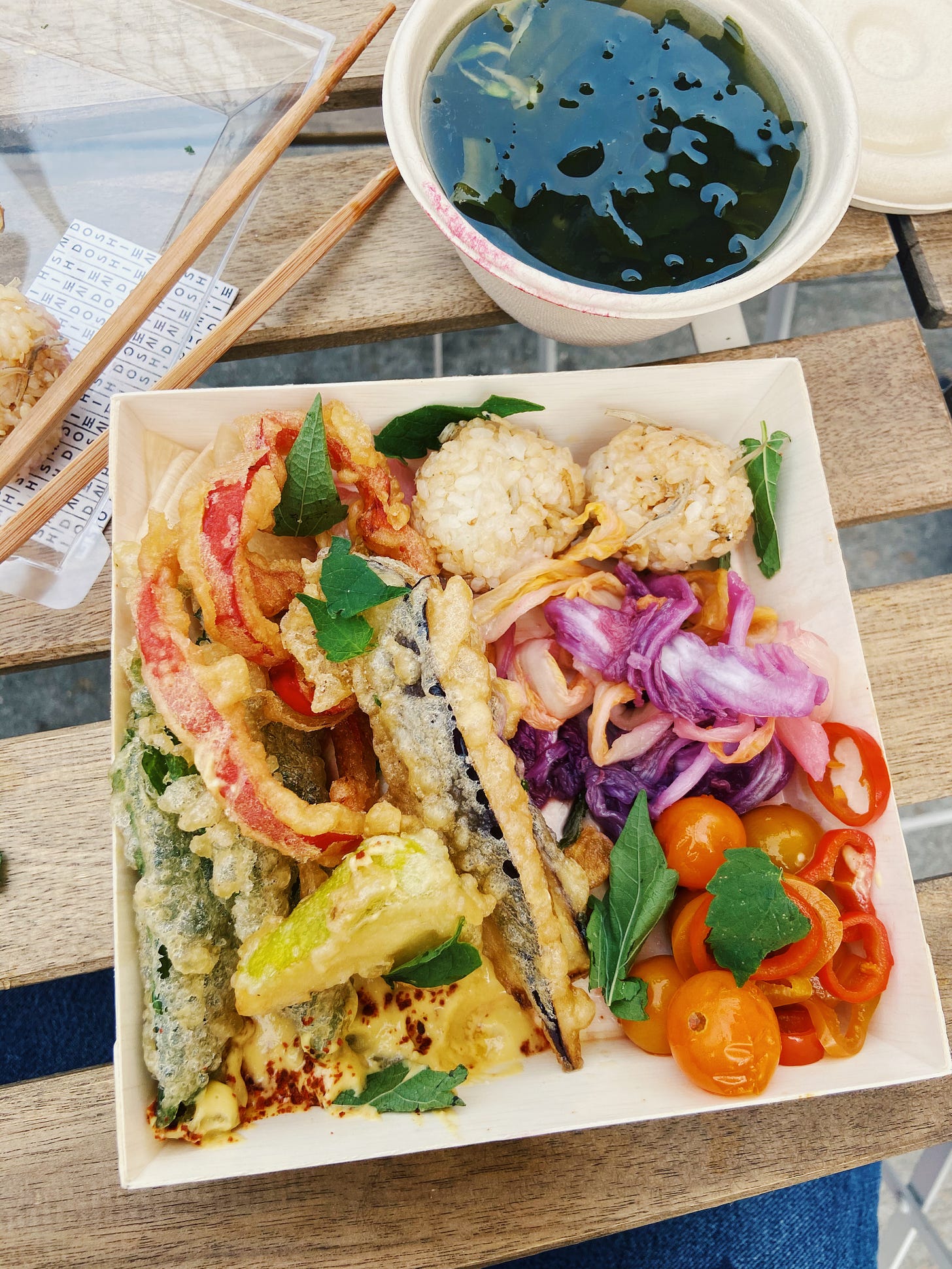 crispy fried vegetables with a corn daenjang sesame dipping sauce, anchovy walnut candy rice balls, baek kimchi and icy seaweed broth from @eatdoshi, the Fleetwood Mac of pop-ups.
Over the weekend, I made it back to Wu's Wonton King, a BYO restaurant in Chinatown that serves one of my top 5 favorite things in New York, a gorgeous crab that they do THREE WAYS (crab, three ways): The legs steamed and split, doused with ginger-scallion sauce, the claws and knuckles fried the House Special way, crispy and greasy in the best way, topped with fried shallots and crispy garlic and fresh scallion, and fried rice made with the insides (juices/tomale/etc) of the crab. It's all you really need when you go, but it would also be good to get the clams in black bean sauce, wonton soup and sautéed pea leaves. If you didn't bring wine, there are some great options in the neighborhood, including Leisir, a wonderful shop around the corner. They close at 7, so if you're looking after that swing by Cervo's around the corner and grab a bottle or five from them.
Generally, I have to say I am really loving watching how restaurants, cooks and chefs are reacting to the current pandemic situation, finding ways to feed their community and cook for others despite some of the most intense roadblocks a small business could possibly face. There are interesting pop-ups, takeovers, theme nights, restaurants-turned-amazing grocery stores, donation-based dinners and kooky outdoor dining set ups that make me feel like I'm at a carnival. I'm wildly inspired and impressed at how people continue to do what they do (cook! feed people!), reacting, evolving, making it work.
So, when you go, be nice! In fact, maybe be annoyingly, overly nice. They are working with restrictions and new rules and it's a weird time to have to constantly remind other adult humans that show up to "please wear a mask" or "please stay six-feet apart from each other when you're on line" and I imagine they are all just doing their best.
It should go without saying, but please, for the love of Biden, remember to tip! Tip more than 20% if you're able. Even for your morning coffee! Maybe when you arrive, ask your server or whoever is serving you "How are you doing? How are things here? Are you busy? I'm so glad you're open!" And when you're leaving, look your server in the eyes and say "THANK YOU for being open! Thank you for feeding me! Thank you for being here!" Let them know you want the kitchen to also know you say THANK YOU. It will mean a lot to them, I promise.
Sorry, were you hoping for meatballs? They will be here next week, along with the other things needed to make a goodbye dinner for your OTHER friends who are ALSO moving to LA. If you're reading this but aren't subscribing, you should subscribe below because I think you will very much enjoy these meatballs and what happens if you miss them because you aren't subscribed?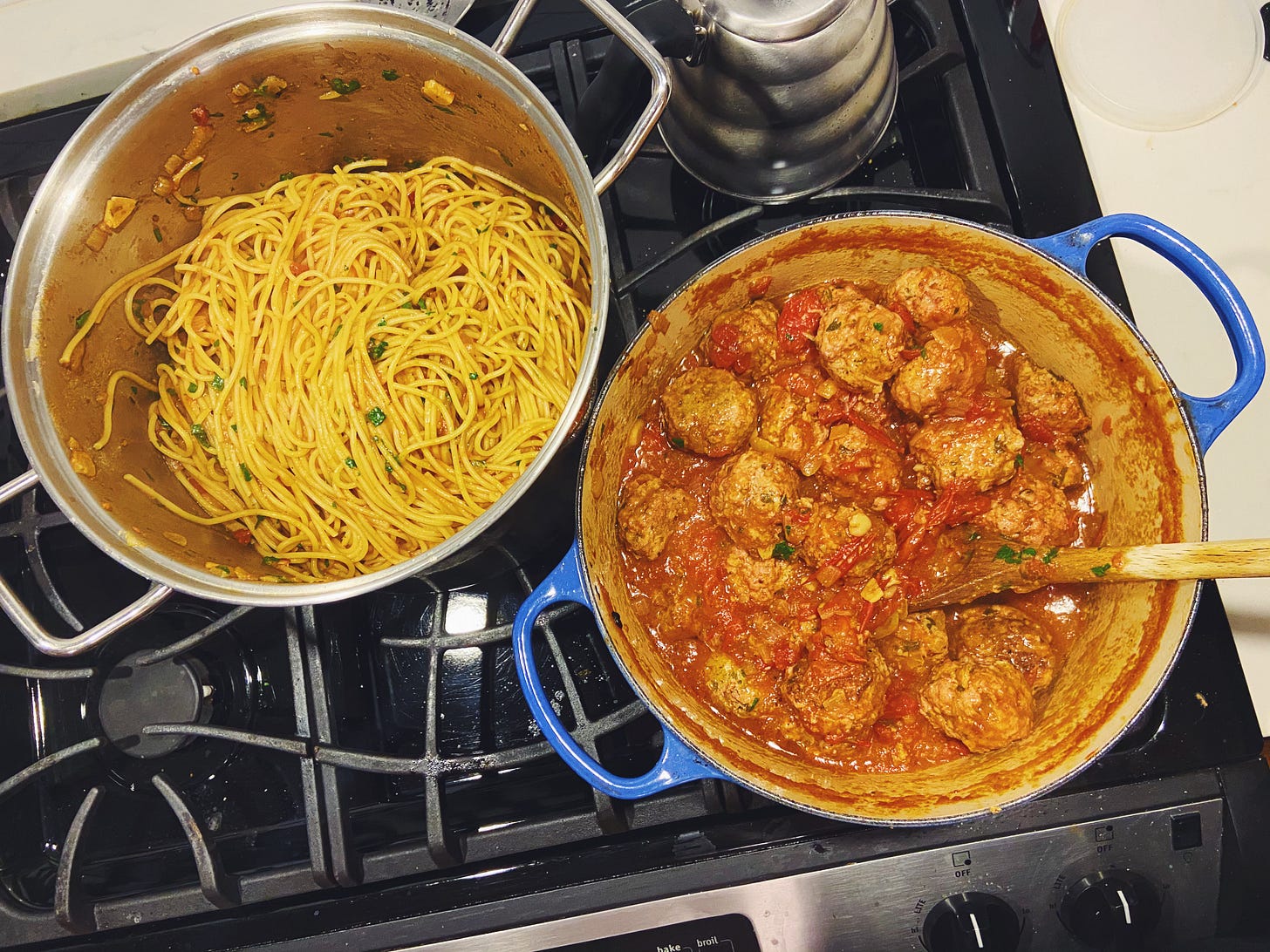 you want these meatballs, I promise.
QUARANTINE ACTIVITIES
Pre-order Chinese Protest Recipes, this remarkably delightfully designed and cleverly written zine full of recipes and information to arm you for the revolution- proceeds go to Color Of Change (DM @TheGodOfCookery to get a copy (and a shirt?!). Decide to pick up tennis at the age of 35 and feel shocked when you have a tough time moving your limbs for several days-- for me, it's the repeated bending over to pick up balls you miss. Decide tennis is too expensive to play regularly, abandon tennis. If you fancy yourself an art collector, mark your calendar for this David Zwirner sale to benefit the Biden/Harris campaign and hope that one of the William Eggleston prints will somehow go on sale for $100 so you can buy it and say "yes, that is an Eggleston" when someone asks. Get "really into bolognese" for about a week just like every dude you've ever met, roll your eyes at yourself and decide to never get "really into bolognese" again because you don't even really LIKE meat sauce. Be grateful restaurants are open for as long as it's warm enough to sit outside because they're great for people watching (you really, REALLY miss people watching) and they are absolutely the only place you'll hear the 311 cover of "Lovesong" (lol). Find out Jon Ossoff is MARRIED but still donate to his campaign anyway! I'd move to Georgia for you, Jon! Just saying!
---
For the month of September, proceeds from paid subscriptions will go to 

Heart of Dinner

, a NYC-based organization that's working to provide home-cooked meals and handwritten letters, combating hunger and isolation for the homebound and elderly Asian-American community of New York. Learn more about them 

here

.
---