I don't often feel that I've totally nailed it when it comes to classic or archetypal recipes (always room for improvement!), but I've come as close as I can get approximately twice. Once, for
matzo ball soup
(what a great summer treat) and twice, for pie crust (also what I use for galettes/quiche/tarts). 
When I went to write
my second cookbook
, I realized that in order to do any iteration of a pie, galette or tart, I'd have to include a recipe for the crust as well, which I felt I had already done well in
my first book
. That said, I did want to try to make something better! I played with the formula, switched up the ratios, added more butter, tried a different vinegar.
But I kept coming back to the original. "To me, you are perfect," I'd whisper to the crust— pliable and forgiving when raw, flaky and golden with just the right amount of salt when baked. I had called it "The Only Pie Crust" for a reason.
I felt stressed out (and, quite frankly, embarrassed) at the thought of publishing THE SAME RECIPE TWICE, then realized it's my party and I'll publish this recipe twice if I want to. Not out of laziness, but out of conviction.
So, if you've tuned in for a different crust recipe, I am sorry! But for those who haven't read it yet, here it is, along with some tips for making a galette this summer.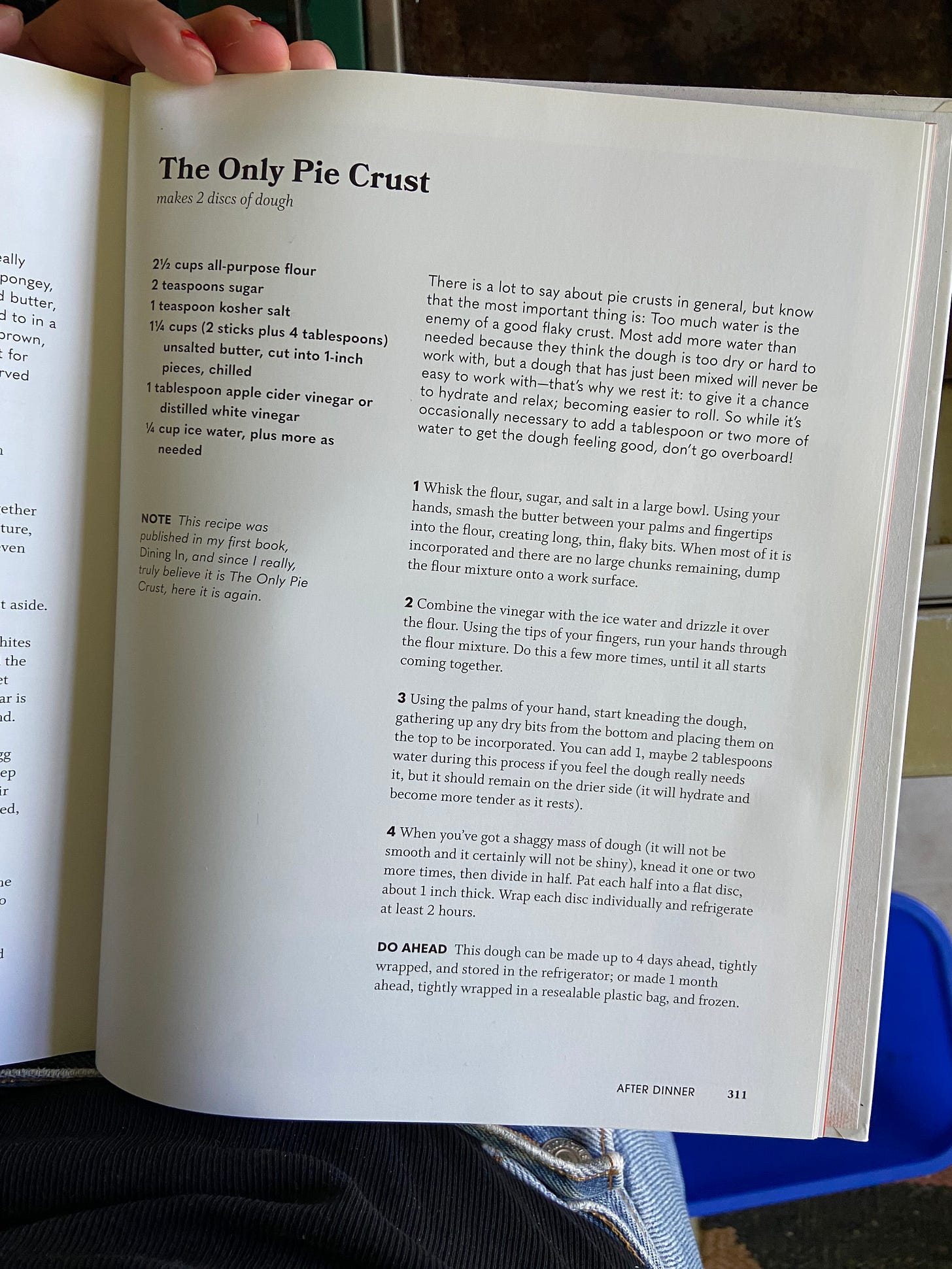 HOW TO: GALETTE
First, make the crust (recipe here, video here). The butter might not be as cold as you know it should be; go ahead, use it anyway. Forget to get the plastic wrap ready before you mix the dough but definitely do NOT wash your hands before grabbing the box of plastic wrap. Get the dough on everything you touch, remembering to wipe your hands on your pants.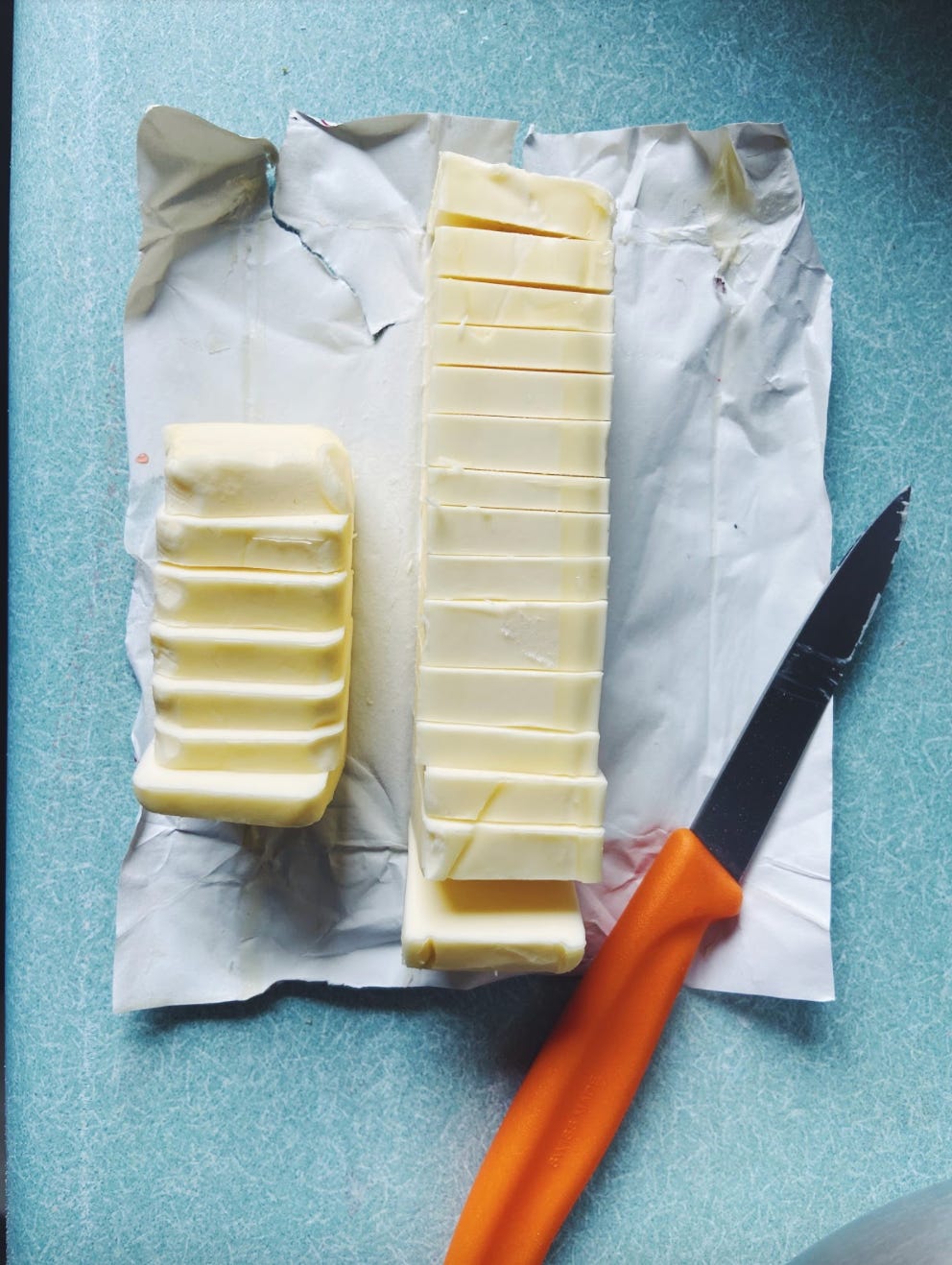 Wrap the dough in plastic wrap*, get annoyed that it won't cling properly because it's covered in bits of dough. Put it the fridge and wonder if you *really* need to let it chill for two full hours like the recipe says? Think about putting it in the freezer to speed things up. Decide that would not work (seriously, that doesn't work, don't do that– resting the dough in the fridge hydrates the flour which makes it easier to roll without cracking– freezing it skips the hydration step and just….uh…makes it frozen).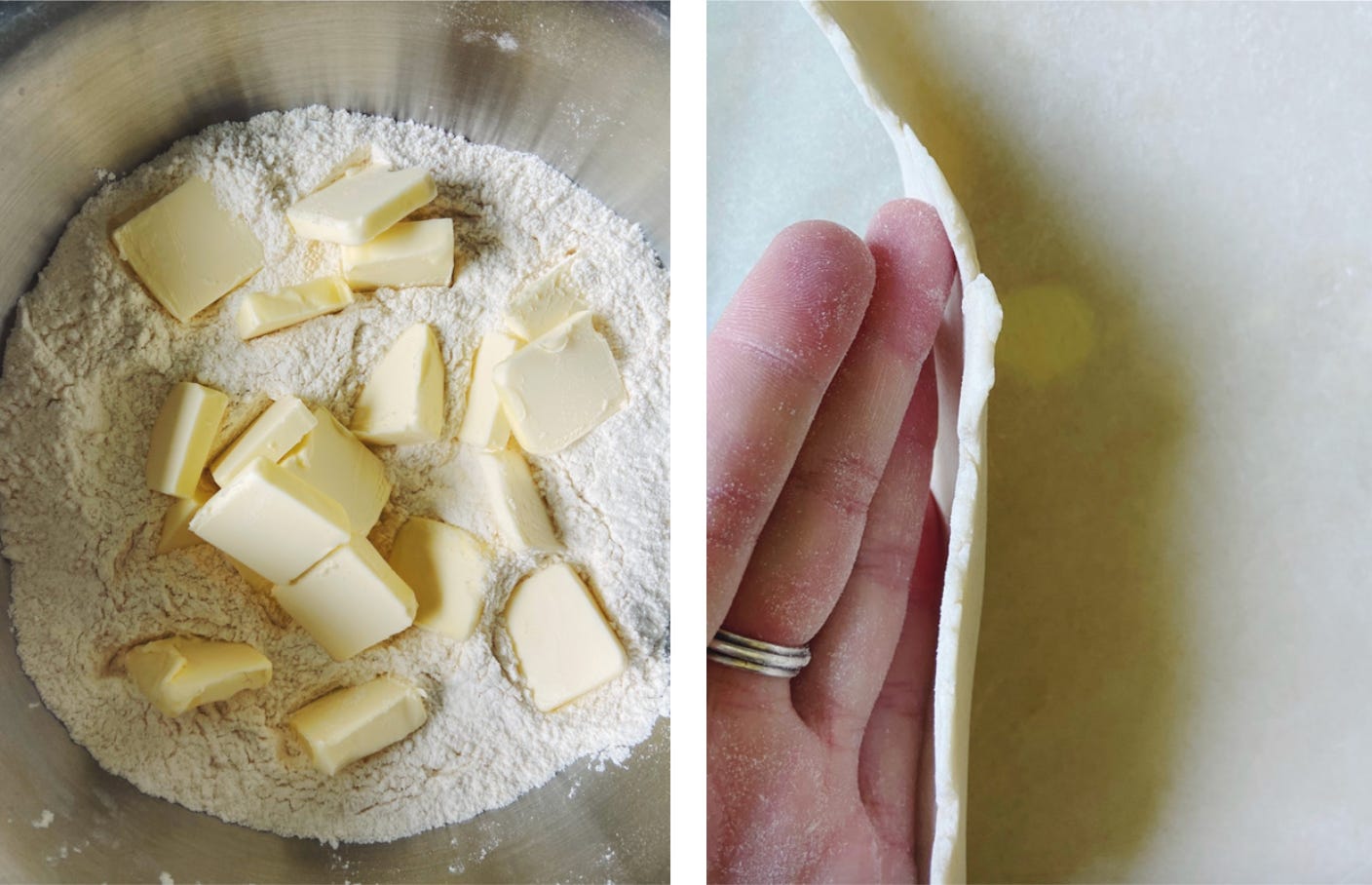 After the dough is firmed up, roll it out on a lightly floured piece of parchment paper so you can easily transport that to the rimmed baking sheet rather than trying to transport the rolled dough or the unbaked galette. This is an arbitrary rule, but I like to think that the shape of the fruit determines the shape of the galette (i.e. berry galettes should be round! Sliced fruit can be round OR rectangular?). Rhombuses, quadrilaterals, whatever you want. Irregular shapes, in general, absolutely rule. 
Starting at the center, roll it thinner than you think so the crust can really crisp up. You want to end up with a circle about 13in/34cm in diameter. Dust the top lightly with flour and flip the whole crust over to prevent sticking later (no need to dust the other top). This crust doesn't give me much trouble, but should yours feel especially high maintenance and finicky, patch up any holes or egregious tears with dough from the perimeter. Don't fuss too much over the edges- craggly, irregular edges are what make the finished product beautiful. Put it in the fridge until you're ready to add the fruit.
It's summer, fruit abounds, what a blessing. These days I go strawberries or blueberries- I prefer to save blackberries and raspberries for cakes because of how juicy and seedy they are. I like to appreciate one fruit at a time, but if you're into the mixed berry vibe, go for it. Later in the summer, approximately 17 years or 30 seconds from now, plums, peaches, nectarines and apricots will also get a turn on the galette summer stage.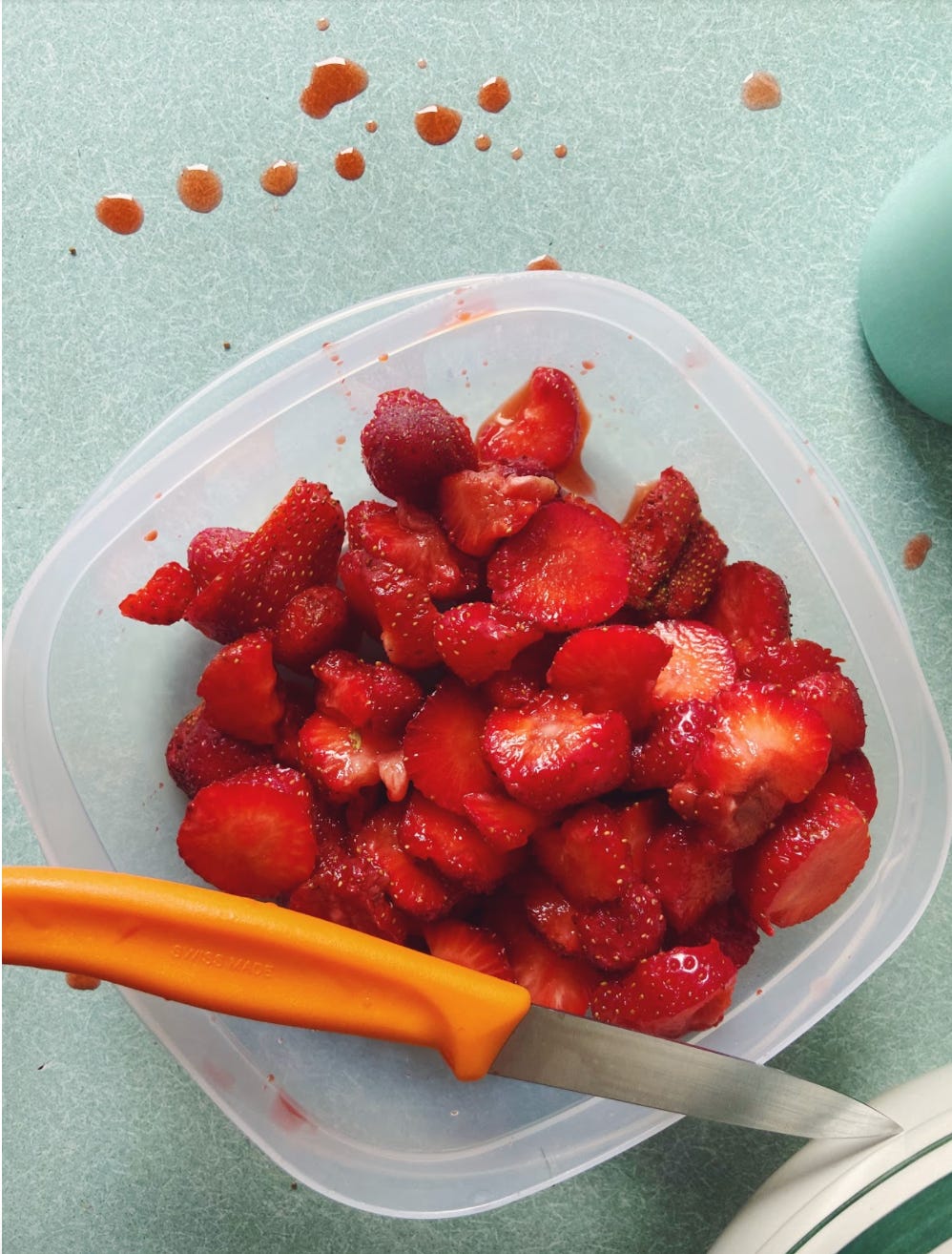 For one galette, you'll need more fruit than you think, about 1 full pound (450g) of berries (if using strawberries, cut them in half or into quarters if large) or 1 ¼ pounds (560g) stone fruit, sliced and pitted. Toss the fruit with about ½ cup (100g) sugar and 2 tablespoons (15g) cornstarch (you can use flour in a pinch, but I feel like it makes for a gummier texture and cloudier appearance). For a thrill, add something fun like citrus zest (in 2020, zesting citrus is a thrill, I'm sorry but it is!). Add the juice of whatever fruit you just zested (or if you didn't zest, a teeny splash of apple cider vinegar or red wine vinegar) and toss the fruit until it's all glossy and well coated.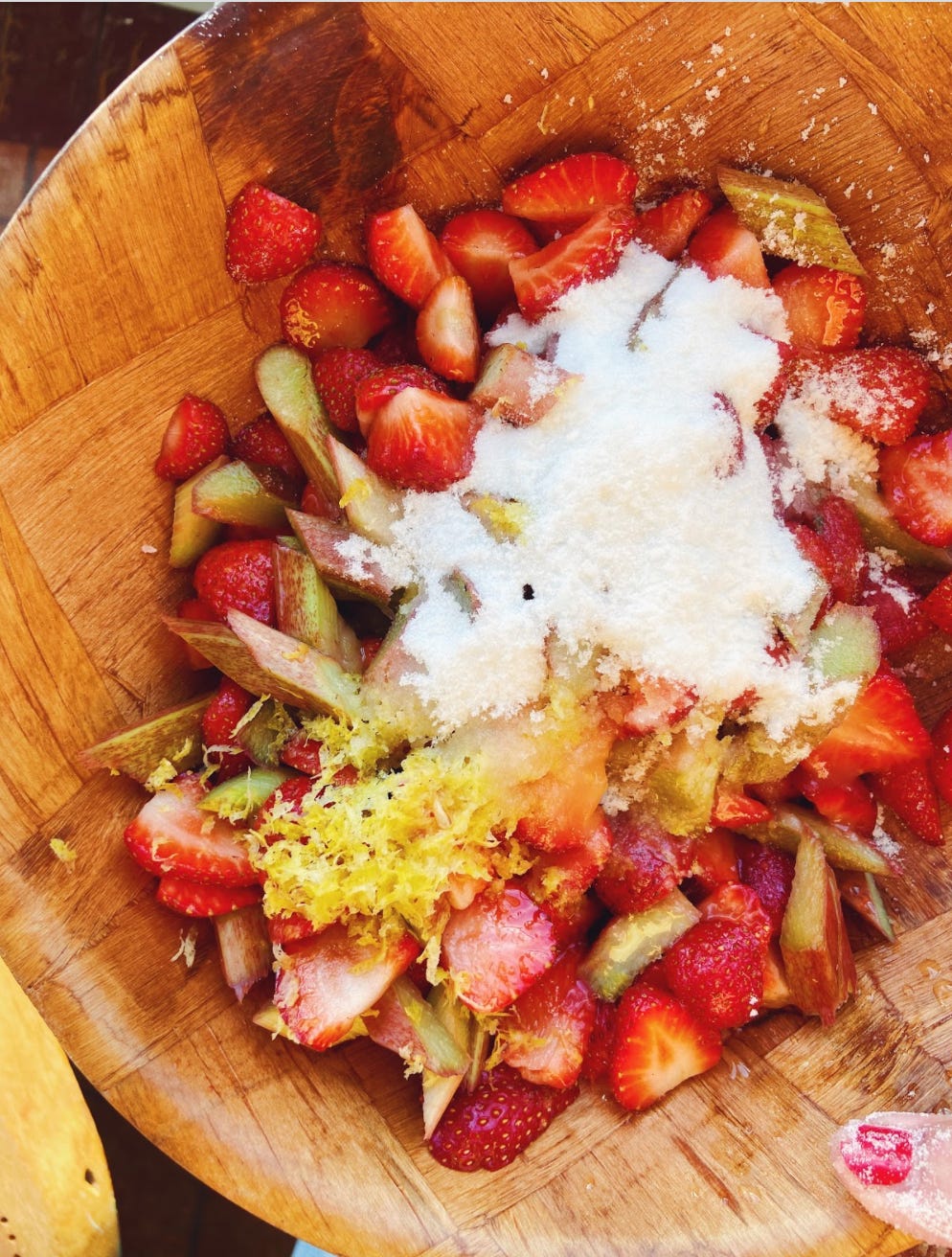 Learn from your plastic wrap debacle and prepare your egg wash now, *before* you need it. Crack an egg into a small bowl and whisk it with a little water to loosen it up. This is your egg wash and is the trick to that very golden extremely lovely looking crust. Even the most buttery of pie crusts shan't shine without it (if you don't have/don't eat egg, a buttermilk, heavy cream or milk wash will do the trick). 
Pull the rolled dough out of the fridge and plop the fruit onto the dough, letting it pile on top of each other, leaving at least a 2" border (this means you'll get about a 2" crust). Gently but not preciously, fold the edges up and onto the fruit, overlapping as you need. The deepest of the craggly edges of the crust are where a lot of juices will escape to (not that there's anything wrong with that), but to limit the outpouring of juices, make sure they aren't too deep.
Using a clean paint brush you got at Michael's or a hardware store (or maybe just your fingers), brush the dough with the egg wash and sprinkle the whole unbaked galette with granulated sugar or demerara/sugar in the raw/turbinado if you have it (regular brown sugar kind of just melts and clumps onto the crust, which I don't love).
Bake this new friend at 375° for approximately 65–75 minutes (yes that is a long time). The crust should be deeply browned like a good croissant and feel strong when you tap on it (weird but true… go ahead, tap it, it should sound strong and almost hollow). If it feels like it's getting dark but the crust isn't yet baked through, reduce the temperature to 350 and continue to bake, peeking every so often but not too often.
The juices will have likely bubbled up and over the crust in places, which might look nice. If a leak has somehow sprung while baking, do not panic, it is not the end of the world, do not self-flagellate, this is not a failure. Above all: Do not try to fix it while it's in the oven- let nature run its course. Bake it until those juices have charred to carbon on the sheet pan and someone walks into the kitchen and asks if something is burning. "Yes, but it's fine! It'll soak off!" you can say.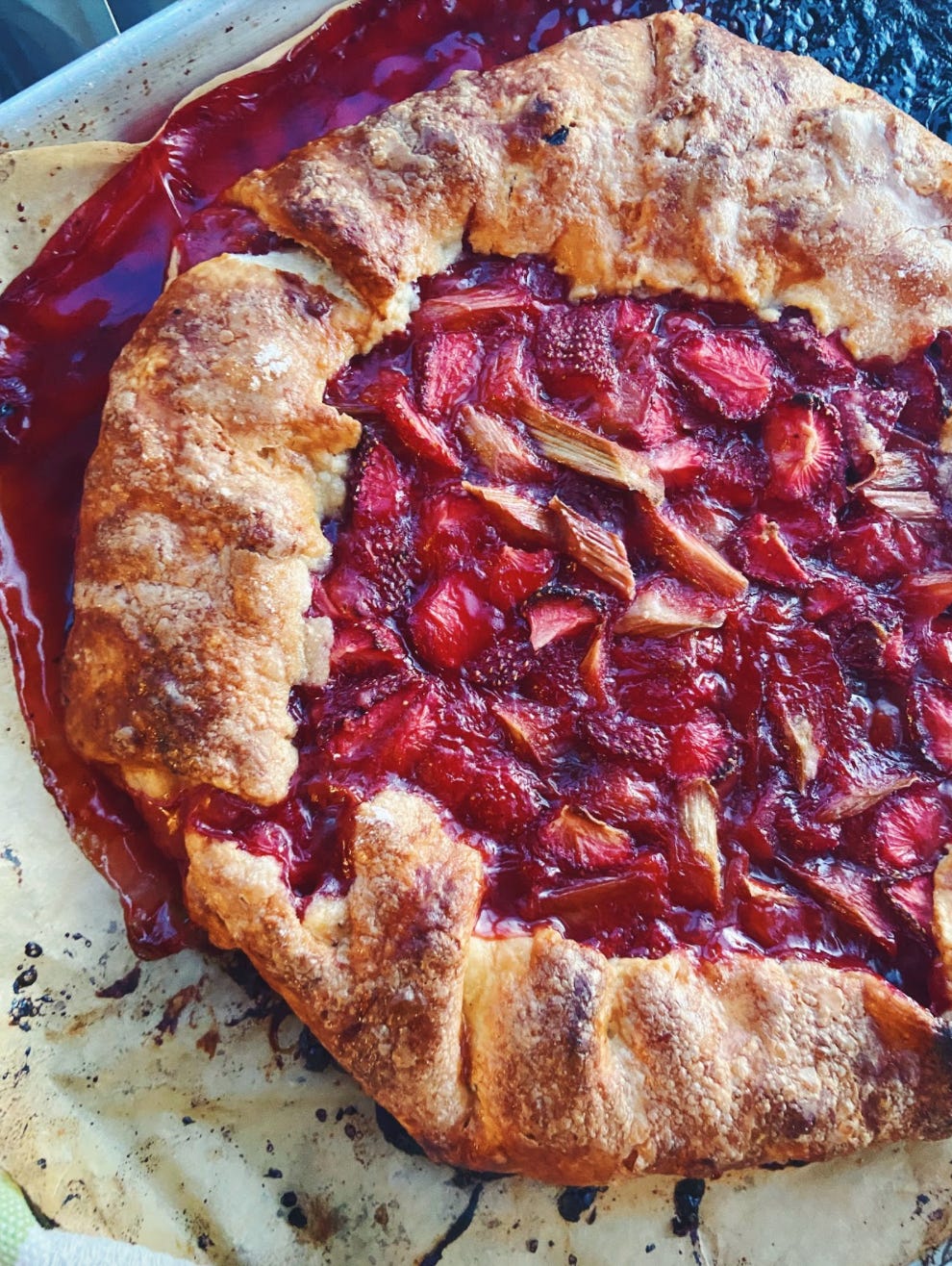 Take the galette out of the oven. This is your galette. There are many like it, but this one is yours. Let it cool slightly to give the juices a chance to settle and thicken up before slicing. You can transfer it to a wire baking rack if you have one, otherwise just let it hang out on that sheet tray you simply can't wait to clean. 
Slice and eat the galette. It tastes good, right? You kind of *like* those charred, very caramelized bits around the edges, right? I'm glad, that was on purpose you'll tell yourself. This is no longer a regular galette, but "a caramelized galette!" 
Decide to soak the sheet tray "for easy clean up," (lol) let it hang out in a bath of hot water for a while before scrubbing it so hard that you cut yourself on a stray wire from the steel wool. That hurts! Keep going, determined to scrub the shame of a leaky galette from your day. Alternatively, line your baking sheet with foil before you begin to prevent this nightmare altogether.  
*This is one of the best kitchen investments you can make, if you have the space to store it (I keep mine underneath the kitchen counter). 
QUARANTINE ACTIVITIES 
Buy/read Big Friendship by my friend Aminatou Sow and her friend Ann Friedman and have a GOOD strong cry (like a real Big Cry) thinking of all your important friendships. Promise to strengthen and prioritize them. Decide as part of your quarantine re-brand that you will "become a person who camps," go into an L.L. Bean and buy your first tent and become irrationally emotional when the store employee asks if you are getting a "one-person or two-person tent," decide you'll get the two-person tent because the one-person tent feels like giving up! Understand how cost prohibitive camping can be (enjoying nature should be the most accessible thing on the planet!) and donate to this GoFund Me that aims to outfit people with camping gear who can't otherwise afford it. Make scones three times in as many days in a quest to make a good one; fail, but put it on your to-do list to figure out next week. Read this article about New York's community fridges by Brock Colyar (with stunning images by Jonathan Bumble) and learn how to contribute to/get involved with the ones in your neighborhood.