I know it's time to install my window A/Cs when the fats in my kitchen that live comfortably as solids nine months out of the year turn to liquid. I store the two annoyingly large units on the bottom floor of my building, but they're too heavy for me to lift up the stairs, so I need help bringing them up. And I hate asking for help – I'd rather install a standing desk in the cold shower before asking anyone physically stronger than me for help. Alas, I am an independent woman….with physical limitations! (Thank you to my friend Chris who made all my window unit dreams come true this week!).
Despite my Frigidaire's best efforts, the "how can I wear less clothes" heat of June through September really strips the joy from doing anything involving the oven or stove. I'm not really "cooking," so much as I'm "combining ingredients and eating them at room temperature" (or chilled if blessed with spare space in my very small refrigerator). This ranges from dips ("dip for dinner": do it!), to cold leftovers I definitely did not cook myself to "crunchy salad thing." 
This "crunchy salad thing," has taken many forms (celery, fennel, celery AND fennel), but lately it's been red cabbage because I am shallow and like my cabbage aesthetically pleasing (also, not for nothing, a head of red cabbage "stays fresh" in the fridge for a small eternity). It can be shreddy, chunky, occasionally leafy. Finely grated garlic or thinly sliced scallions show up from time to time. There could be herbs, but there don't have to be (I'd use cilantro, parsley or dill), it has potential to be spicy, but that's not always necessary (use any crushed red pepper flakes or a vinegary hot sauce).
Last week, I was blessed with the opportunity to use my downstairs neighbor's grill (thank you neighbors!). I climbed awkwardly out of my window not meant to be climbed out of and lowered myself down the fire escape to the backyard with absolutely zero grace, determined to make use of this opportunity and grill every single thing I could (I'm a big fan of "if you can grill it, you should probably grill it," cabbage being one of the best cases for that argument). So, reader, I did grill the cabbage. It got charred but not burnt, tender but not mushy.
I dressed it as I usually would with lots of preserved lemon (you could use regular and just salt it very well), sesame (seeds and oil) and lots of coarsely ground pepper (this is the best pepper mill IMO). My socially distanced friends and I ate it with a whole grilled fish, the salty, sour liquid that dressed the cabbage also serving as a sort of dipping situation for everything else on the plate and wow, did we enjoy that. 
This is already becoming way more words on cabbage than any one person probably wants to read, but let me close out with saying that this salad also gets better with age, softening to kraut or kimchi texture as it sits, and if that doesn't get you aroused for cabbage, I don't know what will! Save the recipe for later here.
---
CABBAGE WITH PRESERVED LEMON AND SESAME
Serves 4–6
This salady-side truly goes with everything, which is great because it allows flexibility when I become predictably paralyzed by too many options. While the possibilities may be endless, I can say from personal experience that it goes excellently with: burned hot dogs in the park, roasted chicken on the stoop, tinned fish and a soft egg for "work from home lunch" (lol all the lunches are work from home) and
the falafel I buy down the street
. Eat it raw as a salady slaw, grill it then dress it for more of a side vibe, or do either and let it sit for days on end for a marinated fridge snack: this salad wears many hats.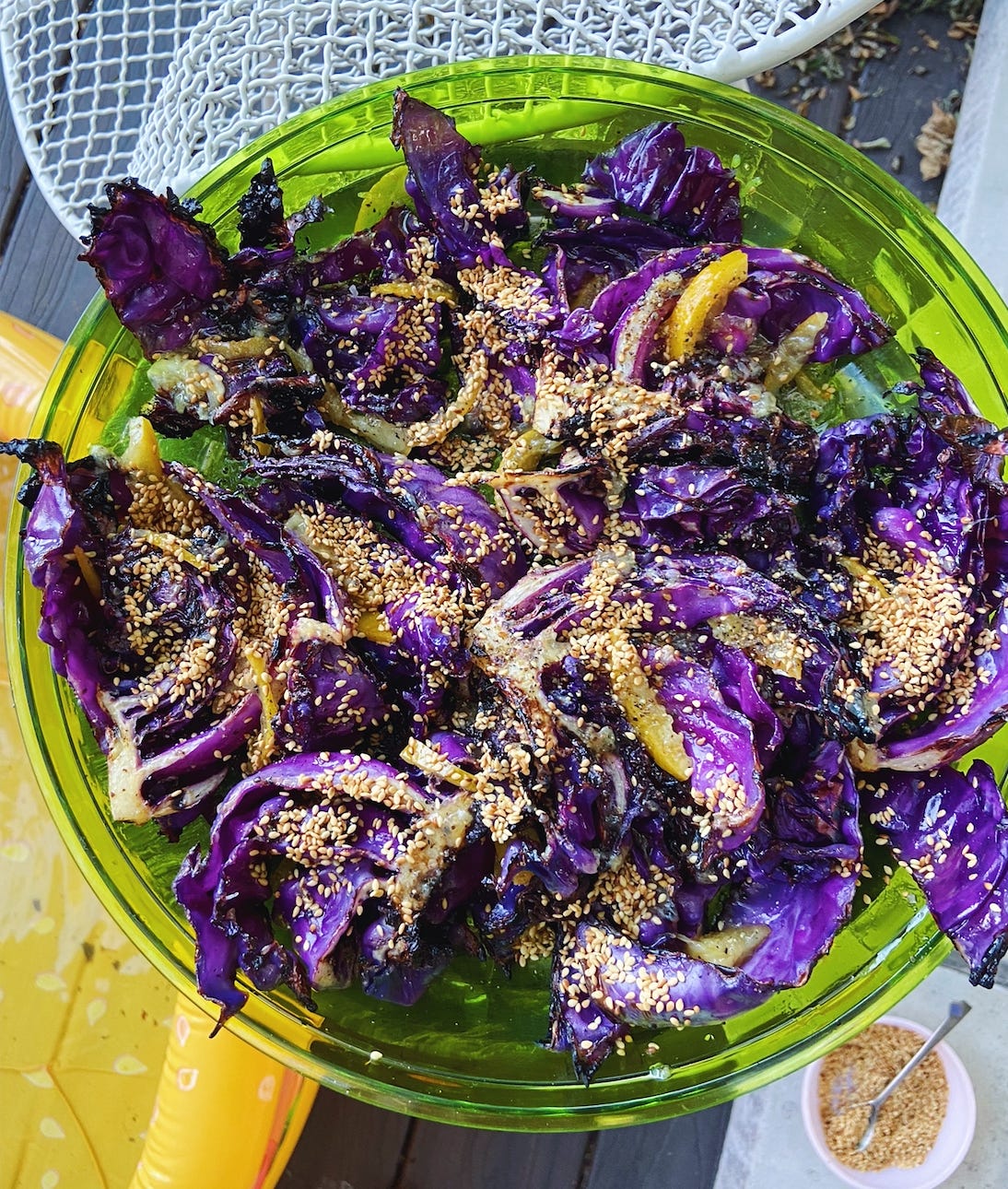 1
preserved lemon
or 1 regular lemon, seeds removed, thinly sliced 
1 garlic clove, finely grated or 2 scallions, thinly sliced 
A few dashes of
fish sauce
(skip it if you don't have or enjoy fish sauce)
1 lemon, halved for more juicing
Kosher salt, freshly ground pepper 
1 small head red cabbage
1-2 teaspoons toasted sesame oil
Olive oil, for drizzling 
3-4 tablespoons toasted sesame seeds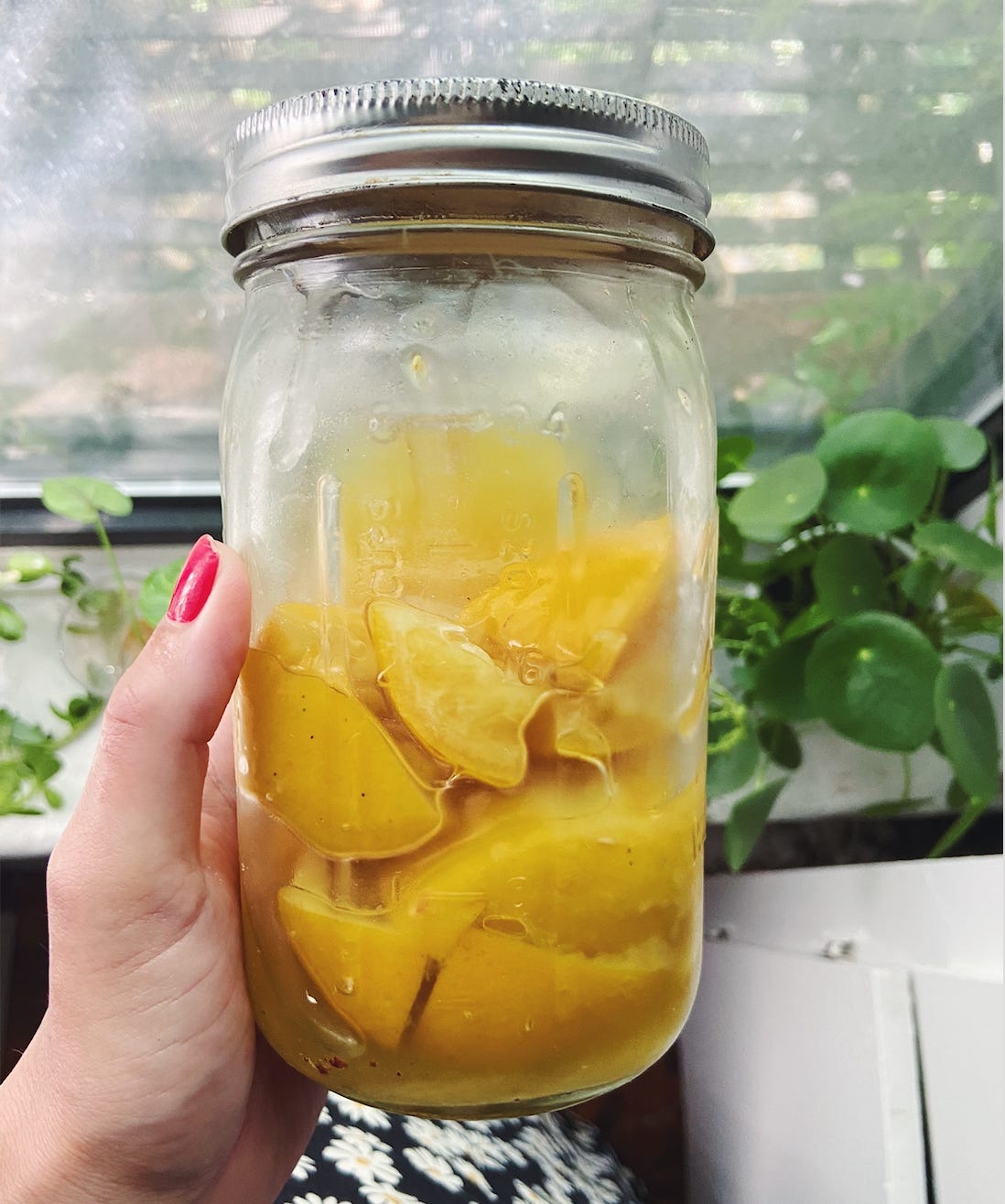 FOR SALAD:
1. Combine preserved lemon, garlic and a few dashes of fish sauce in a large bowl. Add the juice of ½ a lemon and let sit a minute or two. 
2. Coarsely chop or thinly slice the cabbage, depending if you want more salad or slaw. Add it to the bowl with the dressing and season with salt and pepper. Not-so-delicately massage it for a minute or two to deeply season and soften the cabbage into submission. 
3. Add sesame oil and season again with more lemon, sesame (or olive) oil or fish sauce as you see fit and finish with sesame seeds.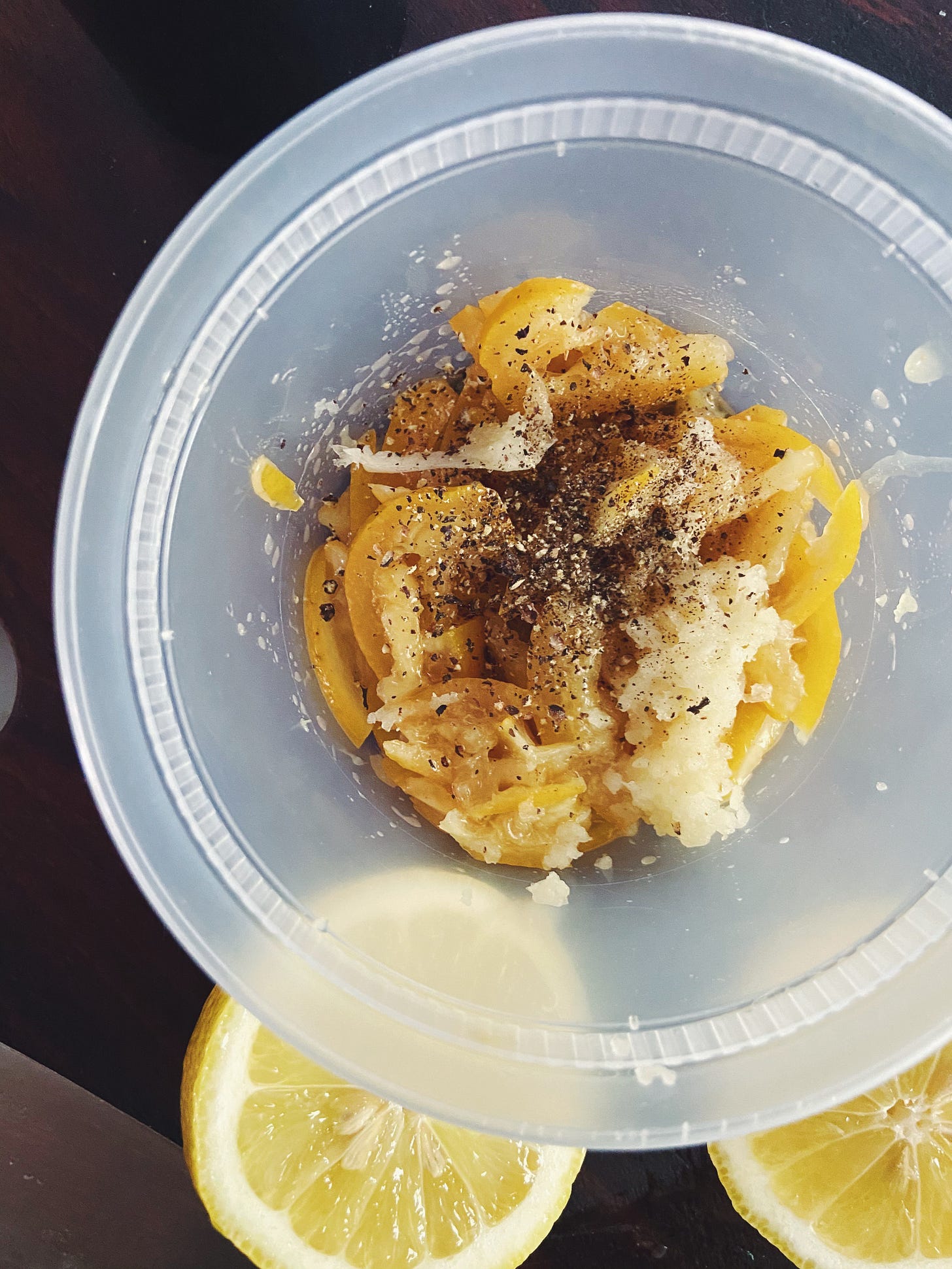 FOR GRILLING: 
1. Preheat your grill to high. Cut the cabbage into 2"-ish thick wedges (keep the root in tact so the leaves don't fall apart when you grill), drizzle with a little olive oil and season with salt and pepper. Grill the cabbage on all sides until lightly charred, kind of tender but definitely still crunchy, 10-12 minutes or so, depending on your grill. I like to kind of fan out the leaves when I flip them so the inner leaves get a little charred, too.
2. Meanwhile, combine preserved lemon, garlic and a few dashes of fish sauce in a medium bowl. Add the juice of ½ a lemon and let sit a minute or two. 
3. Once the cabbage comes off the grill, you can coarsely chop it for more of a salad or leave in wedges for more of a side. Dress it with the preserved lemon mixture and finish with sesame seeds.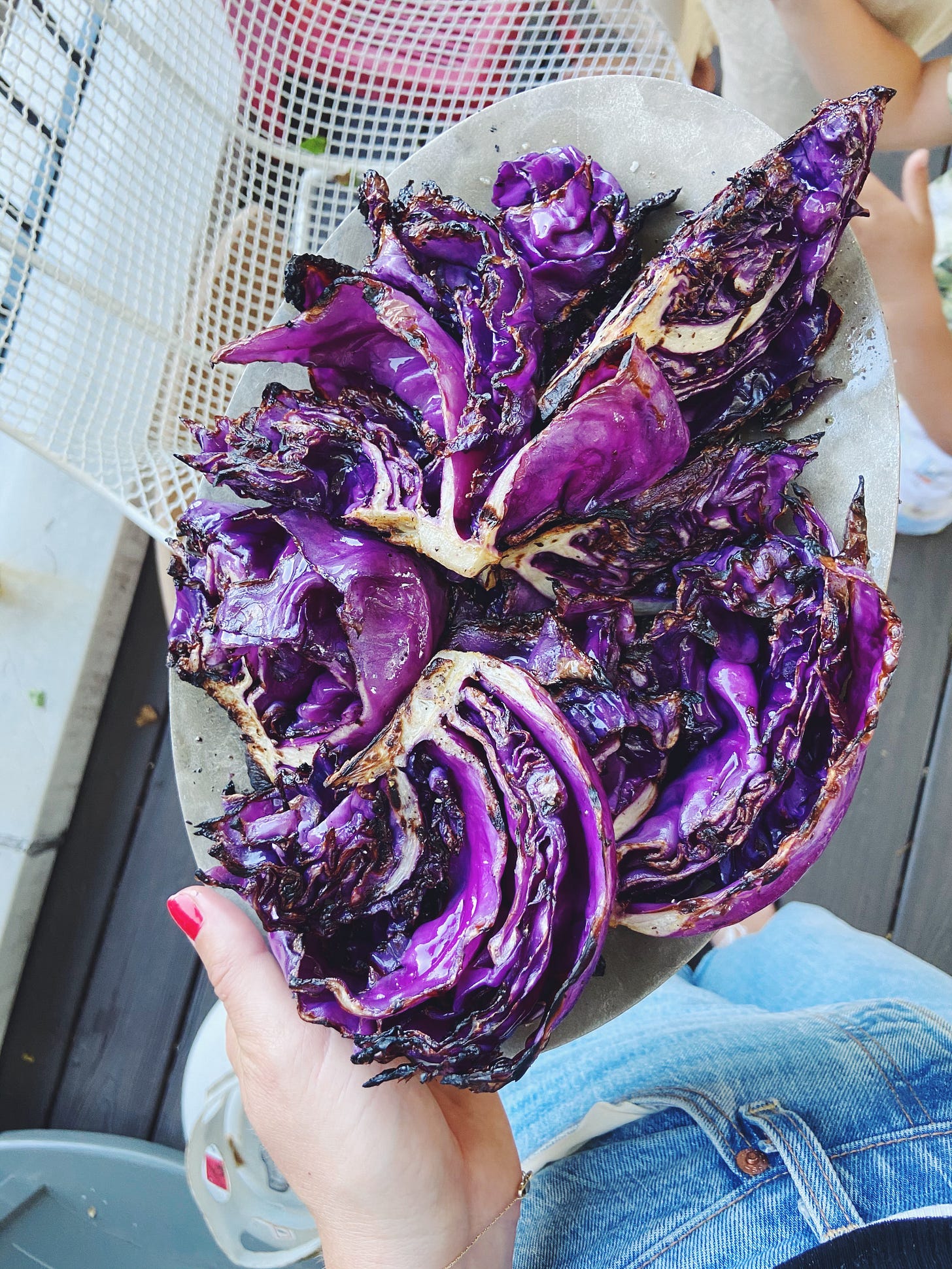 ---
QUARANTINE ACTIVITIES
Decide you finally want to grill a whole fish and eat it with that salad (in Brooklyn I like Fish Tales, Mermaid's Garden, Greenpoint Fish and Lobster), clean out your closet, donate your clothes and shop for a good cause, buy wine from a shop that makes deliveries by employing their own staff (tip heavy), leave a voice memo for a friend instead of texting them, pre-order a book, paint your nails just to feel something, read about bail funds and set up a recurring monthly donation to keep them funded, re-pot your plants because it's summer and they need room to grow, demand justice for Breonna Taylor. 
---
While this newsletter is free and without a paywall, there's always an option to subscribe for a small donation, with 100% going to a rotating monthly charity.
June's charity will be The Okra Project, an organization that offers food and mental health resources and support to the Black Trans community worldwide.