In the before times, my friends and I formed such intense connections with restaurants that we thought of them as sentient beings belonging to our friend group. If we couldn't get into one of "our spots" for whatever reason, we felt a gentle scratch of "our friend flaked on us" betrayal. Were they mad at us? Should we have gone earlier? Normally there's at least two seats at the bar, and, like, why were they so busy? Did someone write about it? Why are there other people going to "our spot"? Do "other people" want to "eat good food" in a room with "flattering lighting" and "nice staff" that serve "great martinis"? Lol am I "Zagat"? 
There were, of course, some places that never flaked; those were our favorite places. Our safe spaces. Like Keen's Steakhouse in midtown, the Times Square of New York (no, this is not even close to the first time I've written about Keen's, and please know it will not be the last! It's my favorite friend!!). We had our table (table 10), we had our order (martinis, shrimp cocktail, wedge salad, steak, creamed spinach, potatoes, sundae). I have never been to an Elk's Lodge, but it filled the purpose of what I imagined an Elk's Lodge purpose to be. We'd catch up, plan our lives, share our dreams, emote passionately with our hands and also cry. We'd sit there at table 10 and feel fabulous because inside Keen's, there's no other way to feel. Can you tell I have no idea what happens at an Elk's Lodge? God I miss restaurants.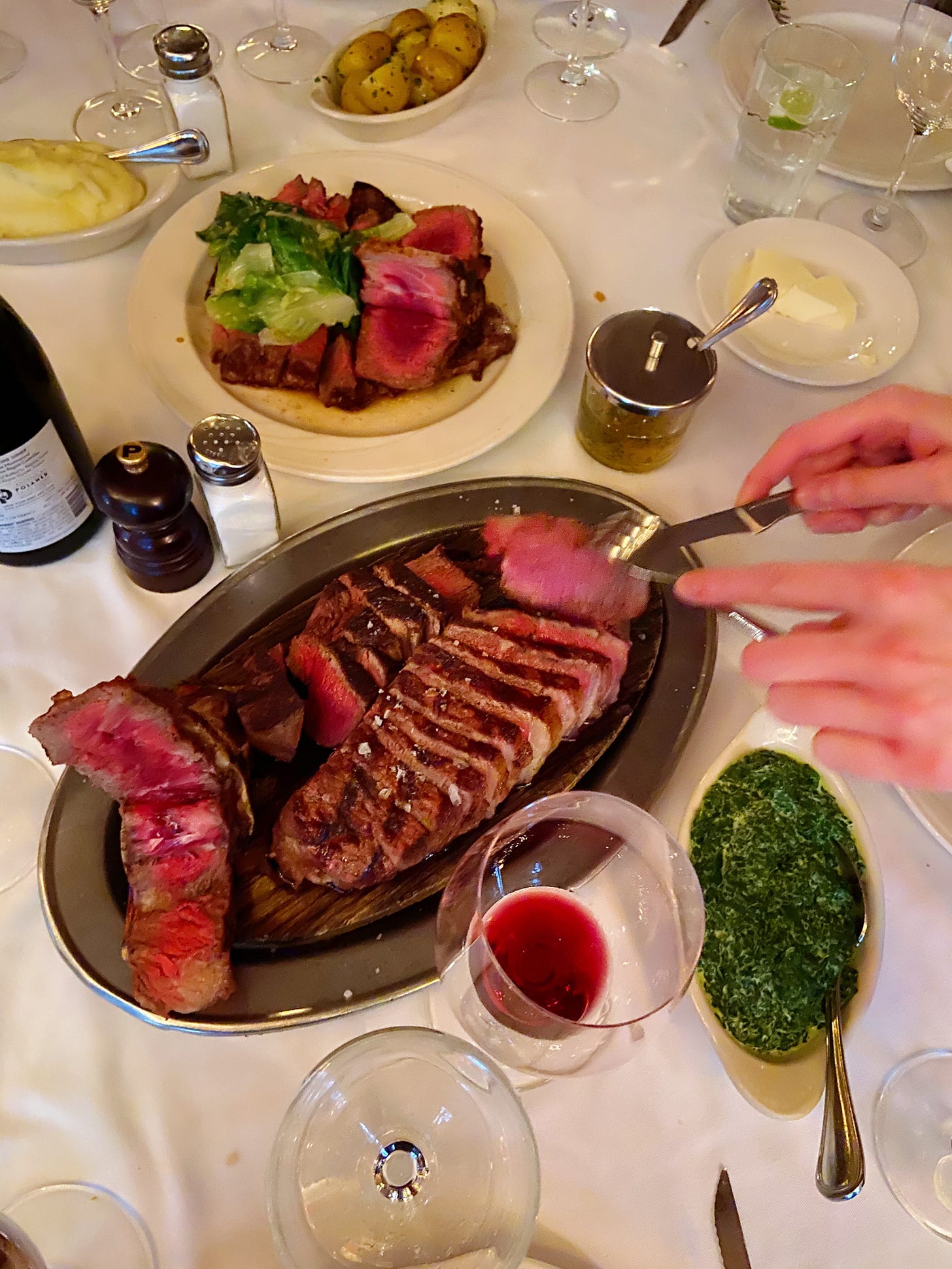 ladies who keens in the before times. I would pay Westworld amounts of money to go there tonight.
It hadn't occurred to me that one of us would ever leave New York, but I knew that if there was a place to have a "goodbye dinner," it would be Keen's. But one of us IS leaving New York (don't worry, this is not a schmaltzy essay about my friends leaving New York— not to say I won't write one!), and where she's going, there is no Keen's. There's Musso and Frank, which is great but the lights are very bright. There's Dear John's, but technically it's new, and plus, it's all the way in CULVER CITY. There's Lawry's but I've never been, so I can't say either way if it'll fill the void or not. I am, of course, writing as if things will one day go back to normal- let me dream this little dream! 
We weren't going to have the opportunity for a proper Keen's farewell, but last minute L suggested we could do our best version at home (respectfully distanced and phase 3 quarantine sanctioned). We were short on time, so we'd keep it simple, just some shrimp cocktail and martinis (gin, two dirty with olives, one with a twist). And a steak. We would also need sides, so we should make potatoes in a way we wish they served but didn't (shingled and crispy, almost like Pommes Anna). Oh, and the wedge salad– we definitely needed a wedge (no tomatoes, dressing on the side). Oh and THE PLATE OF CELERY AND CARROTS ON ICE that came with the blue cheese dip (which was really just the dressing for the wedge, we think). We needed that too. Maybe we *only* needed that? No, we'd also need chocolate sundaes and because I had a pint of previously melted and refrozen vanilla ice cream, we were halfway there. At one point "let's make MENUS!" was floated and I was like listen, this is not The Parent Trap, we have one hour to make dinner and I don't own a single colorful marker, let's not, but damn that was a cute idea.
I was out of dry vermouth for the martinis (we drank coupes of very cold gin) and I didn't have it in me to ever make that chocolate sauce, but otherwise everything was perfect. Especially that blue cheese dip/wedge salad dressing, which ended up tasting like Ranch dressing PLUS blue cheese, rather than, like, a Blue Cheese Dressing-- please note the distinction. Of course, I made five times as much as we needed so have been eating it out of a plastic container, dipping hunks of iceberg lettuce/sticks celery/slices of cucumbers all week for every meal, which now that I typed that, seems sad, but I promise, I'm doing okay!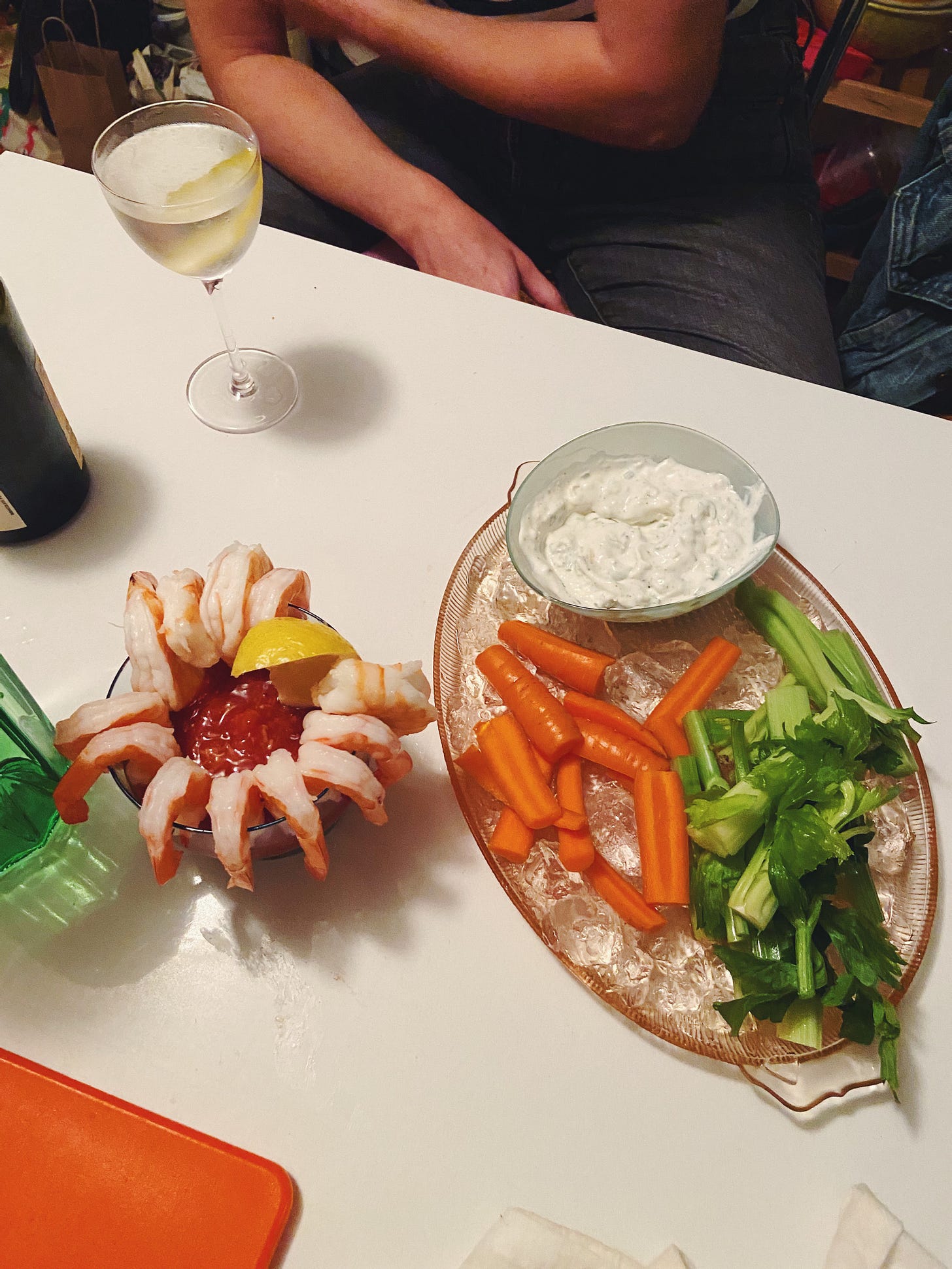 the cocktail sauce: ketchup, lots of
horseradish
, fresh lemon, cracked pepper. the celery and carrots: on ice.
To make the dip/dressing:
Using a microplane, grate 1 clove of garlic into a medium bowl and add 2 finely chopped scallions (I thinly slice and then finely chop the scallion). Squeeze 1 lemon over that, pick out the seeds that fell through your hands and season with salt and pepper. Add a very generous cup (8-10 ounces) of sour cream (or full fat greek yogurt) and season again with more salt and pepper (I really enjoy coarsely ground pepper here). Add more lemon if your lemon was small or if you want it tangier. 
If you were not into blue cheese or didn't have it or whatever, please know that this dressing/dip is perfect now, as just an all-purpose, creamy, garlicky sauce. But as intended, this does have blue cheese, so go ahead and and mix in about ½ - ¾ cup (4-6 oz.) of crumbled blue cheese (Bayley Hazen Blue, by Jasper Hill Farm, is my favorite). When picking blue cheeses, I think it's nice to go with something on the creamier side that you crumble yourself. I find the pre-crumbled blue cheeses to be dry, which never really incorporate into the dressing.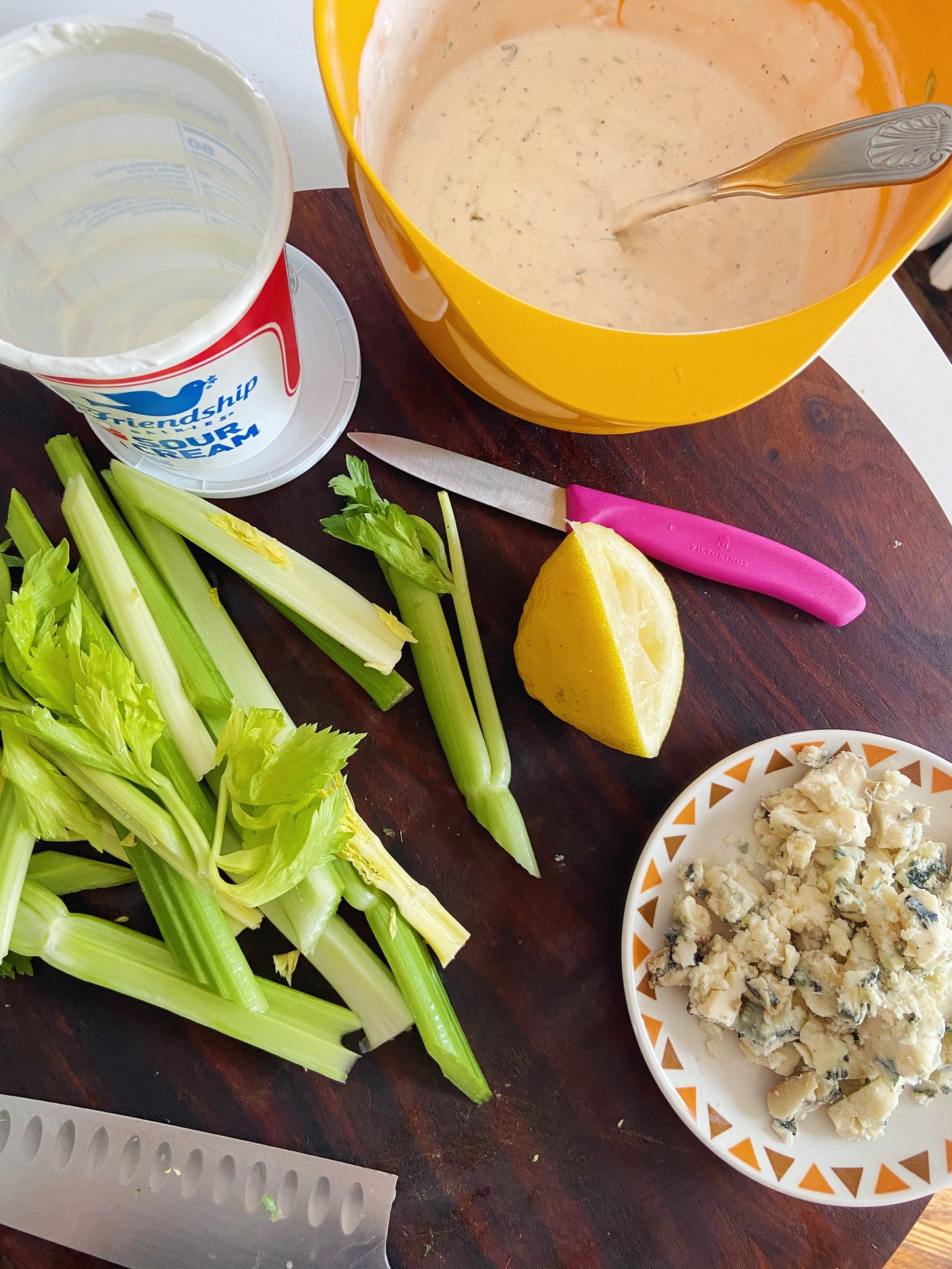 buying a bunch of celery means you end up eating celery for every meal, what a joy!
I don't love runny dressings, but if you felt like this was too thick for a salad, thin it with some buttermilk, lemon juice or, yes, even *a splash of water*. 
Use this as a wedge salad dressing or as a spread for a BLT (which is basically...a wedge salad as a sandwich?) or for a dip for any sort of cold, crunchy vegetable. I also use it to toss chopped cucumbers into for a salad which you can add herbs to (by herbs I mean #dill), which has big reverse-tzatziki-inspired energy and as a dressing for eating with sliced chicken breast over torn romaine and a halved jammy egg for like, a fancy "ladies who lunch" style chicken salad ("ladies who lunch alone in their apartment" lol).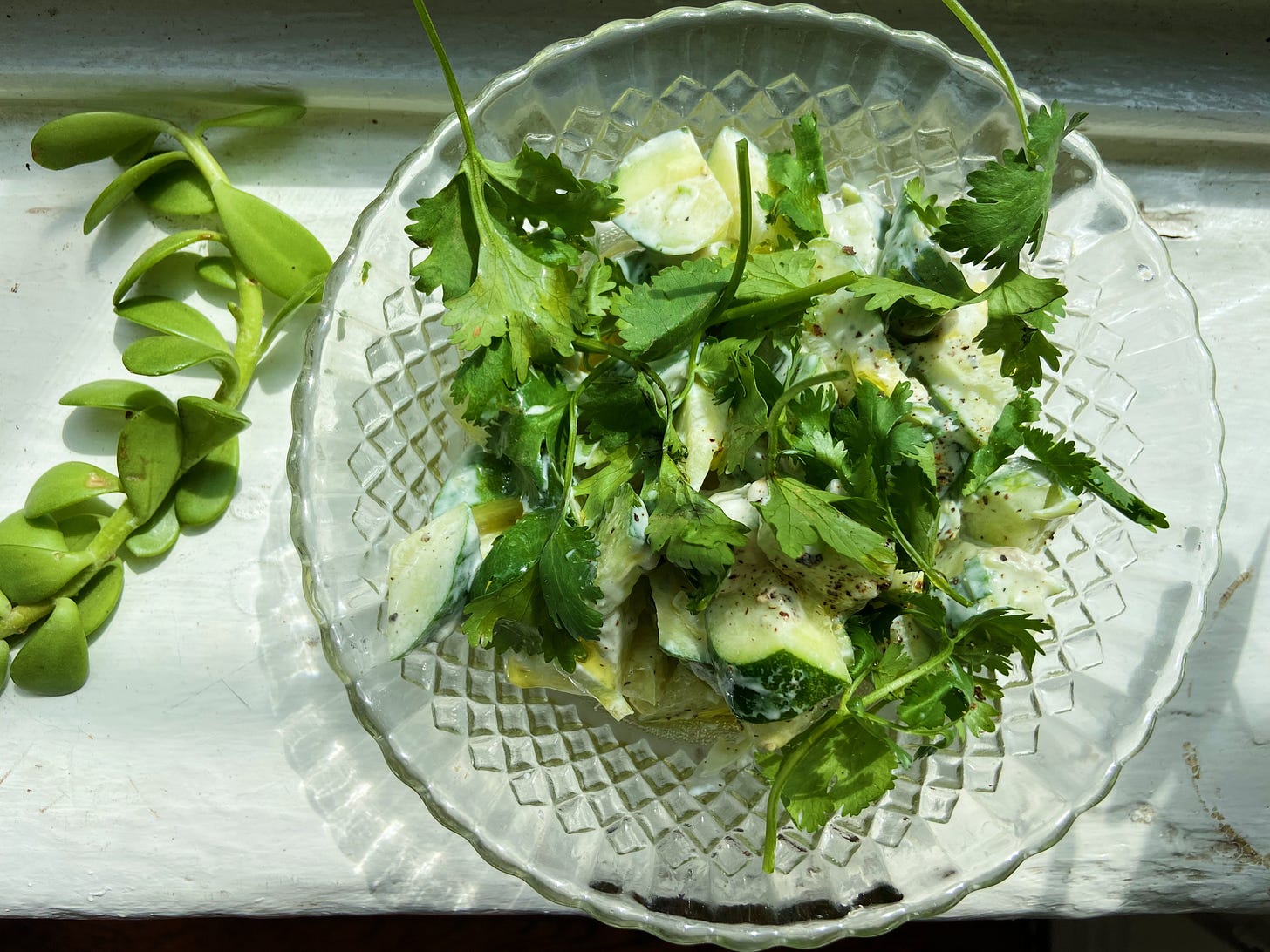 cucumbers tossed w more lemon juice and a spoonful of the dressing. tossed to coat, then finished w olive oil and more cracked pepper. I didn't have dill (how unlike me), so I used cilantro.
QUARANTINE ACTIVITIES
Take a long shower in the dark. I don't know, it's fun to mix it up sometimes, just trust me. Go to the beach on a school day, do the 4–9 shift so you miss the busiest and hottest parts of the day, swim in the ocean. Buy one of your favorite books for someone you love, have it shipped to their house as a gift. Remember you lost your copy and buy one for yourself, too. Clean out your space of all the housewares you haven't used at and clothes you haven't worn in the last 5 months and instead of letting them sit in the hallway for when "you're going to sell them," bring them all to your nearest Goodwill (now accepting donations again in NYC) and SET THEM FREE. Realize you miss HUMAN CONNECTION and decide to move all social activities online (Girls Night In just launched their new initiative, The Lounge, which has some delightful programming coming up. There is currently a waitlist, but you can find out more here). Make an appointment for a haircut, feel the distant yet familiar spark of optimism that only making an appointment for a haircut can bring (Shelby Samaria has been cutting my hair for 5 years and it is my longest New York relationship, she is perfect in every way).
As a reminder, this newsletter will always be free! That said, please *feel free* to subscribe for a small fee. This month (July) all proceeds will go to 

Food Issues Group

, where funds go towards providing food relief to underserved communities in NYC and sustaining the mission to make a more fair and equitable food system all around. If you can't donate and are interested in IRL volunteer work, contact them 

here

.